Inside: Ideas for arts and craft projects and classroom decorations that preschool children can make to celebrate Mexican Day of the Dead / Día de Muertos.
As a Mexican preschool teacher working in the UK, I find it very important to share my culture with our children because they are developing in a global society and we can all benefit from more exposure to different cultures and traditions than the ones we experience at home.
This will not only bring creativity to their ideas as they grow up but also can help to develop a sense of diverse community and tolerance that is much needed in our modern world.
This post contains affiliate links. Please refer to my disclaimer page for more info.
10 Easy Day of The Dead Crafts for Kids
I've put together this list of simple craft projects that young children can make to celebrate Mexican Día de Muertos this November (or end of October, if you want to pair it up with Halloween celebrations).
I hope you and your kids enjoy them!
These adorable Día de Muertos Skulls come with a free printable template of the eyes for the sugar skull that you can easily cut and paste into a paper plate to then decorate with your favourite craft materials.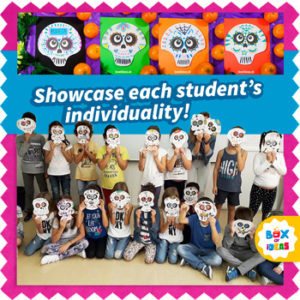 Find the sugar skull template here with several designs to start your craft.
Do you like Frida Kahlo?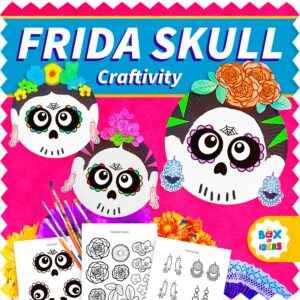 Check out the Frida Kahlo Sugar Skull version of our Day of The Dead kids craft.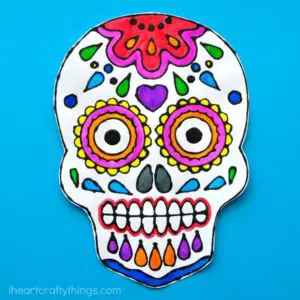 If you haven't used black glue with your children, what better time to do it than around Halloween or Day of the Dead celebrations? You can either buy it on Amazon or make your own following the tutorial over I Heart Crafty Things.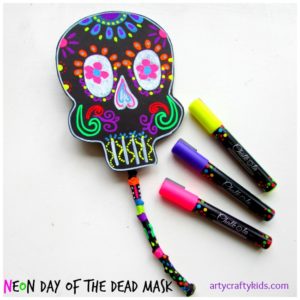 These skulls use neon pens to get that "glowy" effect that I bet your craftiest kids will go nuts for. If you run out of ideas for a halloween costume you can always let the kids do your make-up with these pens. Cyber-Punk Preschool Teacher Costume? Anybody? …ok.
Check out the tutorial for this mask over Arty Crafty Kids.
These calorie-free sugar skulls look great indoors and outdoors. The fact that you decorate them using puffy paint makes them a complete sensory experience that continues after the paint is dry. Don't you also get tiny bits of joy when you feel dry puffy paint with your fingers? Ooooh yeah.
See the tutorial over Color Made Happy.
You might also like this activity: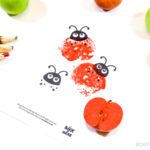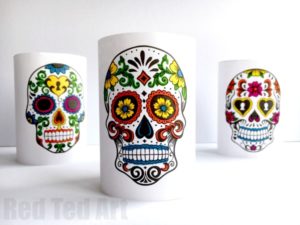 Make these luminaires to light up your ofrendas of Día de Muertos. They are so simple to make that you can quickly make enough luminaires for every ancester your children have had all the way back to the Flinstones Age.
Get the template over Red Ted Art.
The best thing about this paper puppet is that each child can put it together as crazy as they want. The template includes print-ready accesories such as hair flowers and a sombrero to make unique calaveras.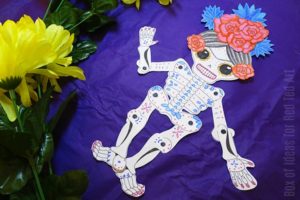 In the picture above you can see the skull puppet I made which is supposed to look like one of my favourite Mexican artists who happens to be dead. Can you guess who it is?
Grab the printable over Red Ted Art.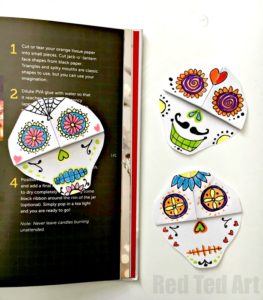 A good way to encourage children to read more is to let them make their own bookmars. Even if the book they are reading doesn't belong to their household, seeing their own bookmarks in the books can give the kids a sense of ownership to keep reading.
Follow the tutorial to make these Day of the dead themed bookmarks over Red Ted Art.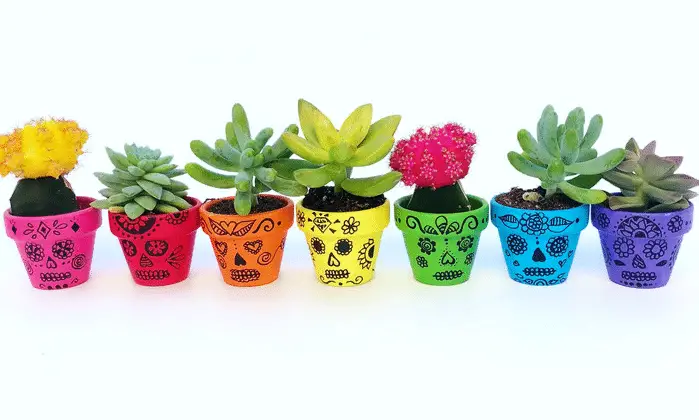 Day of the Dead-ify a bunch of tiny flower pots to decorate your Día de Muertos shrine. If you don't want to use plants because children give you enough beings to keep alive, you can also put a small veladora or tea light.
See the step-by-step instructions at Color Made Happy.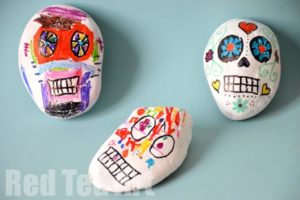 If your kids can't find smooth rocks lying around, you can get a bag from Amazon. Wait a minute… are there any preschool teachers with enough extra budget to buy ROCKS?
Check out the tutorial on Red Ted Art.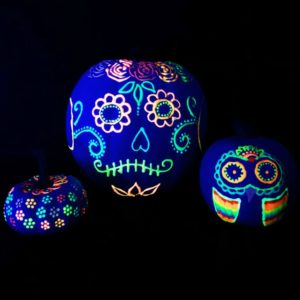 If you have a bilingual classroom, why not make a multicultural craft that involves Halloween AND Dia de Muertos in the same project? These skull-looking pumpkins are a great way to marry both holidays in the same craft.
See the step-by-step instructions at Color Made Happy.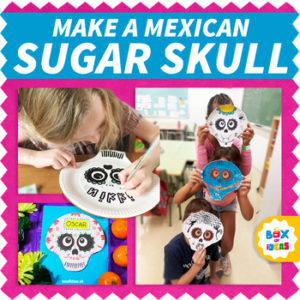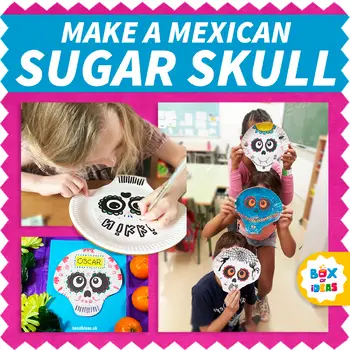 Enjoy these ideas?
Sign up here to get monthly ideas of activities for Early Childhood Education 🙂