Inside: Simple DIY idea for an easy cactus decoration using paper. Made using a tutorial from 60 Easy Paper Projects by Maggy Woodly.
RELATED IDEA: Frida Kahlo Kids Craft
This post may contain affiliate links. I may receive commissions for purchases made through links in this post at no cost to you. Read full disclaimer policy here.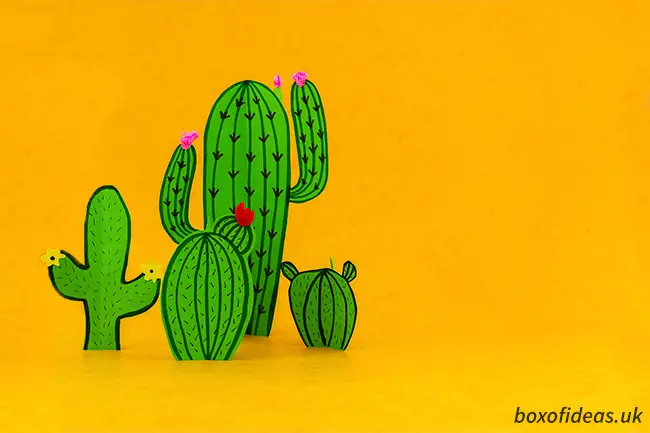 Save this idea:
Have you heard of a craft inspiration crush?
Probably not, because I just made that up, haha!
Well, that is how I felt when I opened the book "60 Easy Paper Projects". The ideas in there are so inviting that what started as a quick book flicking resulted in a binge read-the-whole-book in one sitting kind of a thing…
Maggy from the blog Red Ted Art kindly gifted a copy of her book to Box of Ideas so I could take a look and share my opinion with you.
To get a real feel of the book I decided to make one of the 60 crafts, the problem was choosing just one. My choice was floating around rainbow-looking ideas like the hot-air balloon craft (remember Rainbow Town?) but my wife's input jumped right in to help me decide:
-"The cactus looks cool!" she said
-"And you're Mexican".
So it was decided. A bunch of cacti began to sprout on the dinning room table and my Mexican heart started to warm up with joy ?.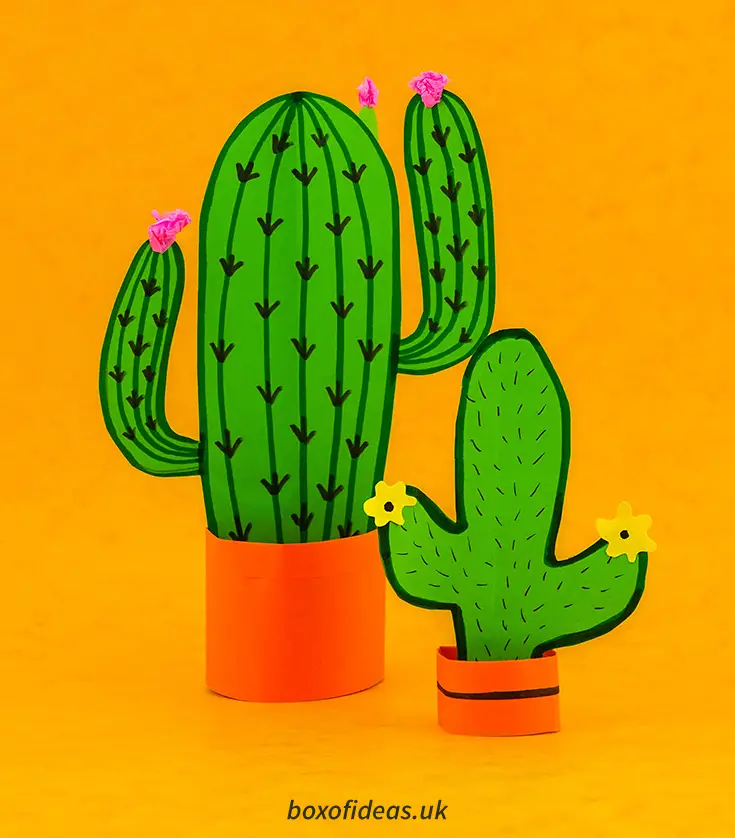 What we used to make the cacti:
Scraps of pink tissue paper and red felt
To make each cactus we followed the steps listed on the book (page 131) and once the 3D shape was ready to stand on its own, we added flowers in different ways:
The big cactus' flowers are crunched pink tissue paper.
The red cactus flowers are felt leftovers from the Christmas cards I made for my colleagues last year.
The yellow flowers are from a paper Mexican sombrero that I made for the cactus but then decided not to use to not feed the cliché, haha.
The naked cacti looked great because they are body positive but we wanted MORE COLOR. So we made orange paper pots for the cacti to move into.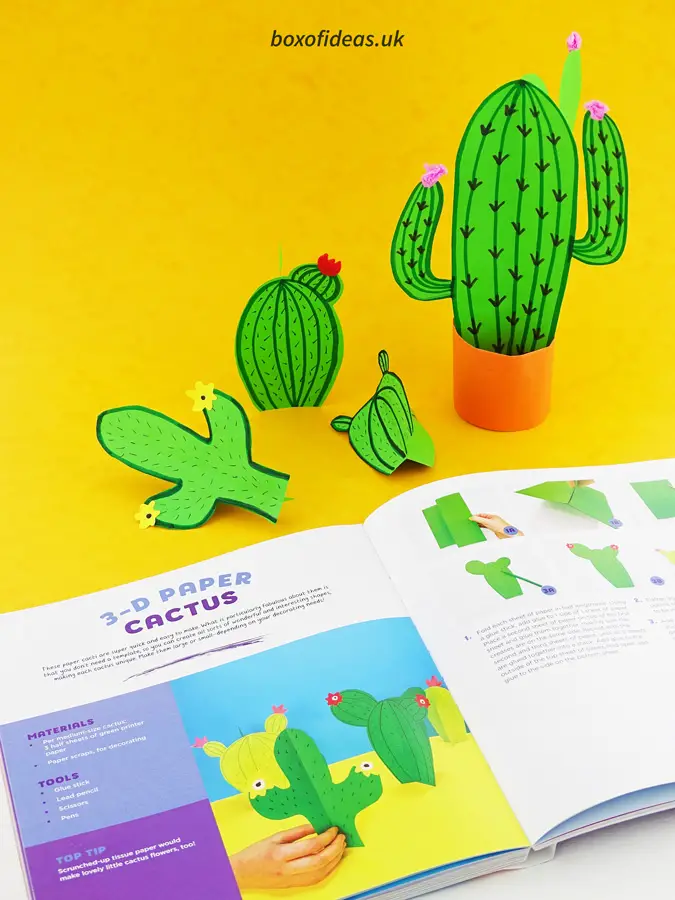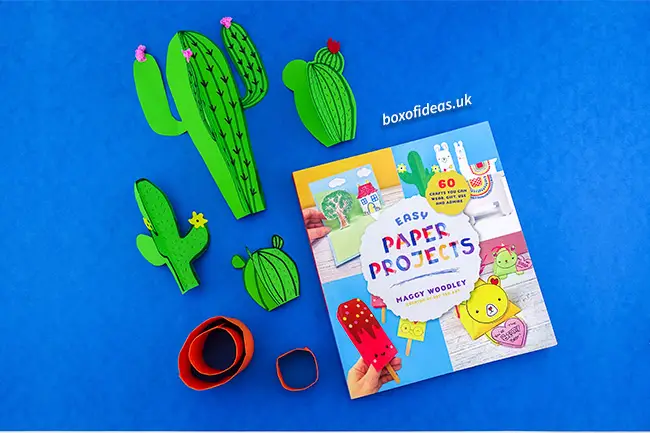 To make the pots just cut a rectangle (the size depends on your cactus), add glue to one of the side edges, and then stick it to the opposite end making a cylinder shape.
Making each cactus from beginning to end took us less than 10 minutes and it was very enjoyable.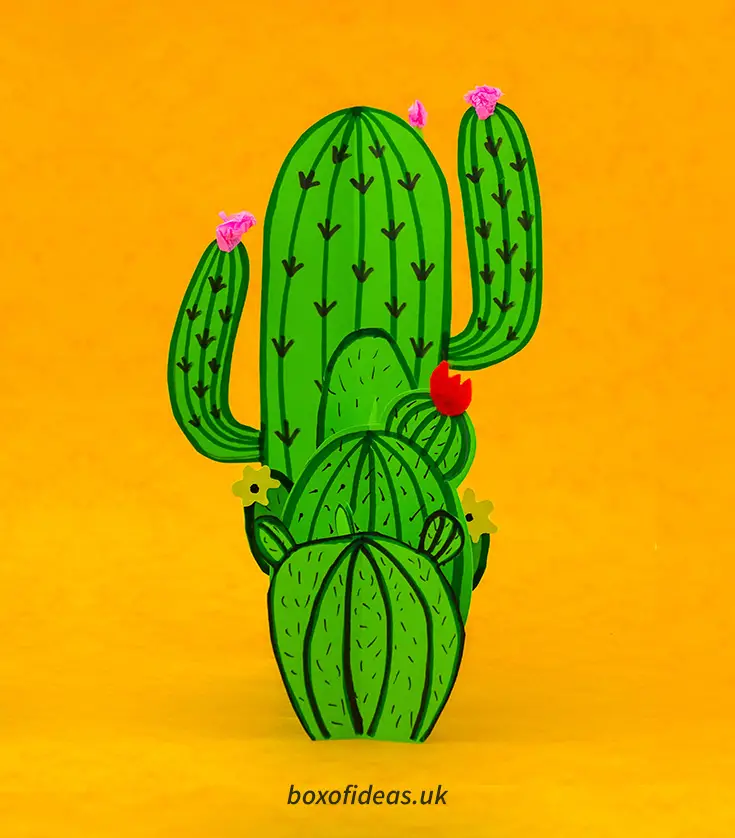 The Educational Side
I can't help but see the craft with preschool teacher eyes and as I was crafting I could think of how this could be a good project for young kids from an educational point of view.
"A CACTUS CRAFT is educational?" you might think. Well, yes lovely reader. Allow me to list a few reasons why:
Crunching tissue paper is a good fine motor skills workout. A classic one in kindergarten.
Talking to the children about cacti as they craft can be very informative. Where do we find cacti, usually? How can cacti survive so long without water? Why do cacti have thorns? etc.
Scissor cutting is also a good ol' way to develop those fine motor skills.
Why can the cactus stand if we make it 3D as opposed to making it flat (2D?)
Counting time: How many flowers/stems/thorns/bumps/whatever should we make for our cactus?
Just to name a few.
In this video Maggy (the author) flicks through the pages of her book. She shows all the different types of crafts included in the book: cute and easy bookmarks, organizing crafts, crafts to wear, simple DIY cards to surprise friends, ideas for spring and easter crafts, crafts for the summer, ideas to craft around halloween and fall season, and of course: Christmas and winter crafts!
You can spot the cactus craft I chose for this post in min. 5:08.
More ideas from the "60 Easy Paper Crafts" book:
Paper Fish Craft by The Craft Train
Flower Brooch by Make it Your Own
More ideas for young kids using paper: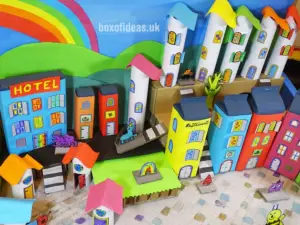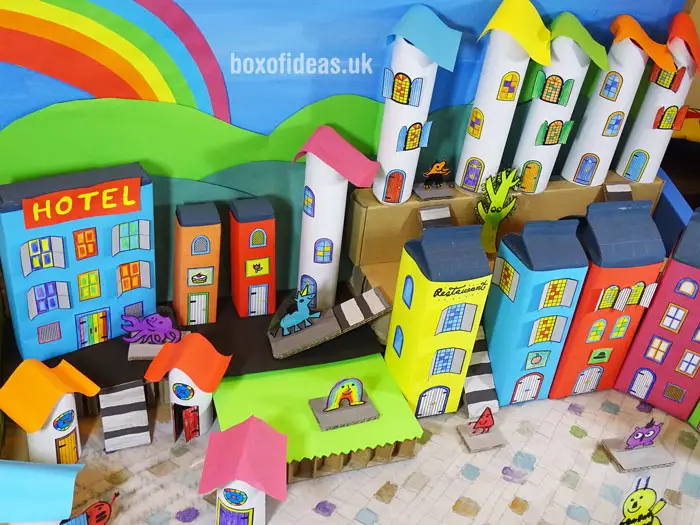 Rainbow Town made of recycling