Hello! Box of Ideas is a blog full of creative ideas for Early Childhood Education.
My name is Roy, I am a qualified Early Years Teacher and I run this website with the help of my best friend and wife, Alice.
Besides creating content for Box of Ideas I work full time in my dream job as a Preschool Teacher in a Forest School (outdoor kindergarten) in Bristol, UK.
Most popular blog content
My story
Since I was born I have been immersed in the field of Early Years Education thanks to my creative Mamá who flourished as a successful Preschool Teacher in my home country, Mexico.
Growing up I started sensing the calling of becoming a teacher as I realized that working with children came naturally to me (Thanks, Mom!?).
At age 13 I started volunteering in underprivileged rural towns (with no electricity, plumbing, clean water or proper housing infrastructure) in different parts of Mexico, where we would go and live for 3-5 weeks spread across the year's school holidays.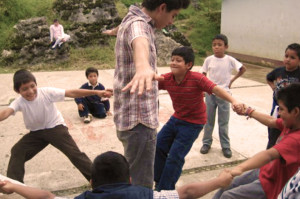 The mornings were for visiting families in their homes and in the afternoons we would organize fun and engaging games for the children which would last up to 5 hours or even more! IT WAS SO FUN.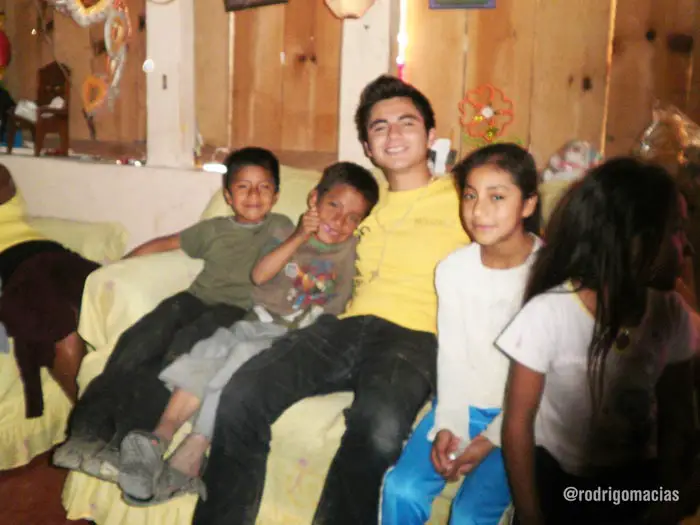 I volunteered there for sooo many years. Eventually, I became a Director of that group, until I left to focus my time on getting a Bachelor's Degree in Design and Advertising.
The reason I didn't choose to be an Educator as my first degree was that I never met any male teachers until I was in high school, which gave me the TERRIBLY WRONG idea that a career as an Early Years Educator was not possible for me, being a man.
During my Uni years, I got the chance to work as an English Language Assistant in a state school for a semester during a year abroad that I did in Málaga, Spain (an opportunity that I only could afford to take because of winning a contest with the video shown below in this story, phew!?).
In Spain ??, I saw other males teaching early years equally as women, which revived in me the idea of becoming a teacher.
Before becoming an EYT, the most experience I had working with children had been as a counselor in summer camps around the world.
In Mexico, I worked 2 summers at a day camp in my University. I also worked at an overnight safari camp called Watusi Watoto (it is part of a popular Safari Park called Africam Safari ?) in different holidays where we would do the usual camp stuff plus Animal day and night tours.
I don't remember ever coming back home after one of those camps without completely losing my voice (WE LOVED CHANTING OUR LUNGS OUT! ?)
* Fun fact: The closeness with the animals in that park planted in me the seed to become a vegetarian! which I've happily been for more than 7 years now ??.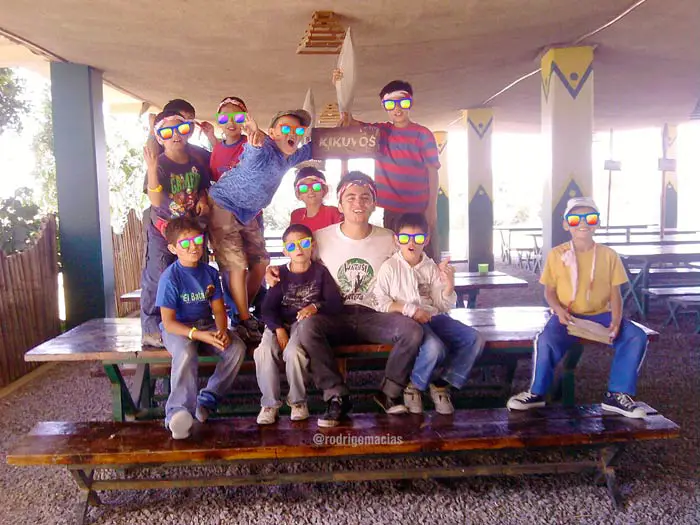 At the end of my year abroad in Spain, I had problems with my bank and my parents could not send me any money at all, which became a real worry for me because I had about 20 Euros in my pocket and one month left before my flight back to Mexico ?
but luckily, I found a last-minute job in France ??, where I worked as an activities counselor at a language summer camp where French kids would be immersed in American culture.
There, I wasn't allowed to disclose my real identity to the parents or campers so I had to say I came from Texas and I couldn't speak Spanish nor French. It was funny because the kids would say VERY inappropriate stuff in French thinking I couldn't understand, and it was part of my job to pretend I didn't ?.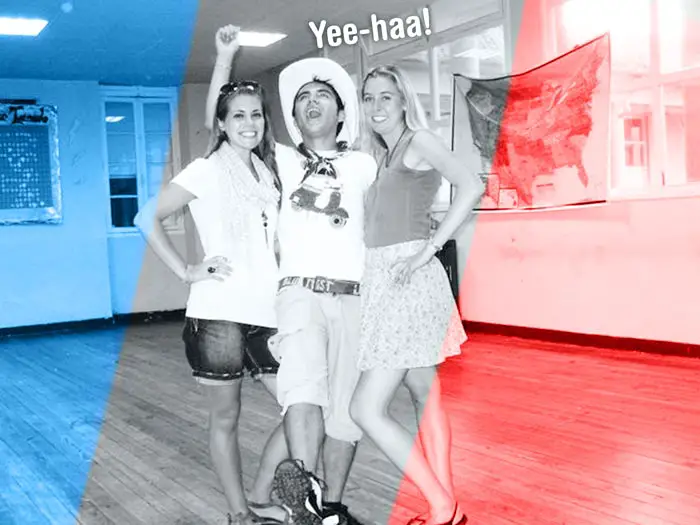 In the USA ??, I worked for 4 summers at Camp Horizons (see video below, it was so many years ago! I feel a bit embarrassed of my English back then ?), a traditional overnight summer camp that is celebrating its 35th summer this year in Virginia, USA.
I worked in that magical place each summer for 10 to 12 weeks. The job was 24 hours a day, 6 days a week AND WE COULDN'T GET ENOUGH OF IT. It is unbelievable how a job can be SO FUN and meaningful.
* ❤ Cheesy fact! ❤: In the lake of that camp is where I met and got engaged to the love of my life.
For the first 2 summers, I was a camp counselor teaching in the visual arts department (mainly Arts & Crafts and Movie Making classes). As well as my department responsibilities I was also responsible with one co-counselor for a cabin (up to 10 kids) in the youngest boys village (Sunrise Village!?).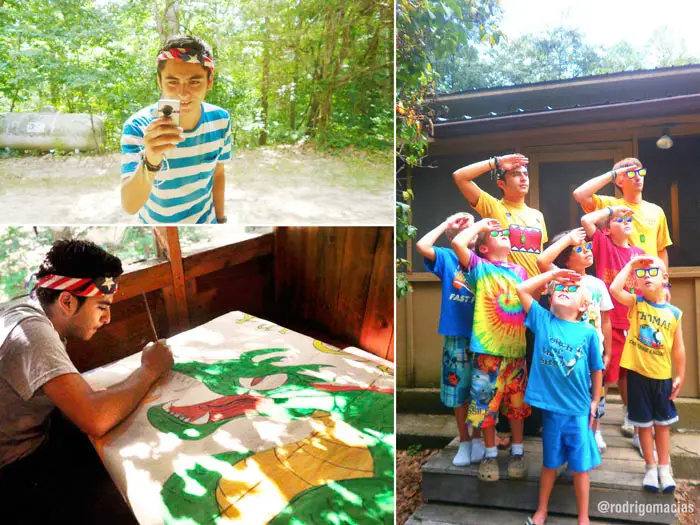 In my second summer at Camp Horizons I received the "Unsung Hero Award", which is voted by all the other members of the staff and goes to two counselors who consistently do what it takes to produce an amazing camp experience or program, even when nobody is watching (I don't know how to tell you this without sounding cocky, sorry about that).
In my 3rd summer, I became the first department manager who was not a native English speaker.
The team I managed was the visual arts department: we gave classes in Arts & Crafts, Photography, and Movie Making, amongst other new fun ones that we introduced, such as "Music Video Making":
Apart from my cabin responsibilities, teaching in and leading the visual arts department, I also had to help organize fun and creative evening and day programs (My favorite ones were Mario Party and The Avengers Horizons Games, a summer-camp olympics style program).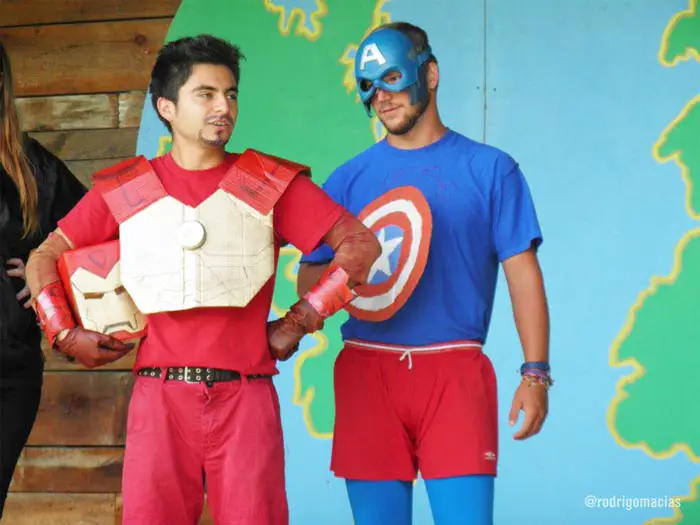 At the conclusion of my last summer at Camp Horizons, my now wife and I planned a program designed specifically for kids aged 5-6 years old, with a different theme each day. Below is a little video of one of the activities for Nintendo Day 🙂
The last two summers I volunteered in a one-week summer camp for orphaned children as a cast member in the drama department, organizing plays, games, and songs (the only time after graduation I've really used my experience as a musical theater actor from my uni years! ?).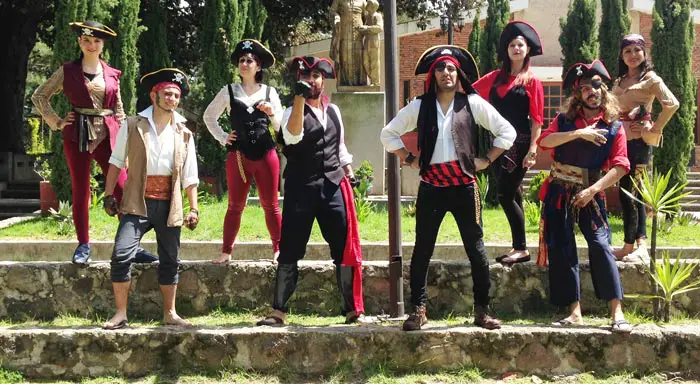 I am very thankful for working at different summer camps around the world since that has given me a huge amount of experience working with children of all ages. It also provided me with invaluable skills in leadership and teamwork (AND A BUNCH OF ARTS AND CRAFTS PRACTICE, of course!) which I think are essential for working with children.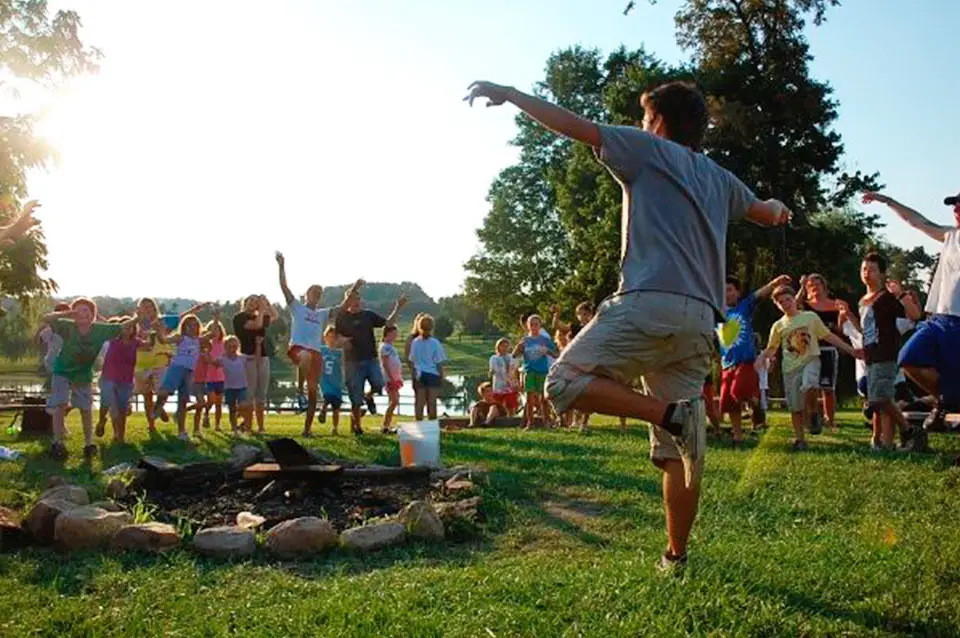 Now, besides running this blog, I am a qualified Early Years Teacher working in an outdoor kindergarten in Bristol UK, where I live with my wife, daughter and dog-hter ?.
I am a qualified Forest School Leader.
I hope to help in some way to spread the word about why we should have more men working in Early Childhood Education. If you have an idea, do reach out!
– Roy
For my full work experience and a couple of references, please see my LinkedIn.