Inside: Posters, Flash-Cards, and Coloring Pages of beautiful and clever number designs for bilingual education
Designed to promote number recognition and language development in both English and Spanish, this classroom resource offers a range of benefits that make dual-language learning fun and interactive.
Color and Count the Animals
Each design in this coloring book cleverly incorporates a specific number of adorable animal faces, allowing children to visually connect numerals with corresponding quantities. This unique approach reinforces number concepts and enhances counting skills in an enjoyable way.
Would you like instead a physical coloring book delivered to your home?
You can get our Bilingual 1-10 numbers as a coloring book through Amazon.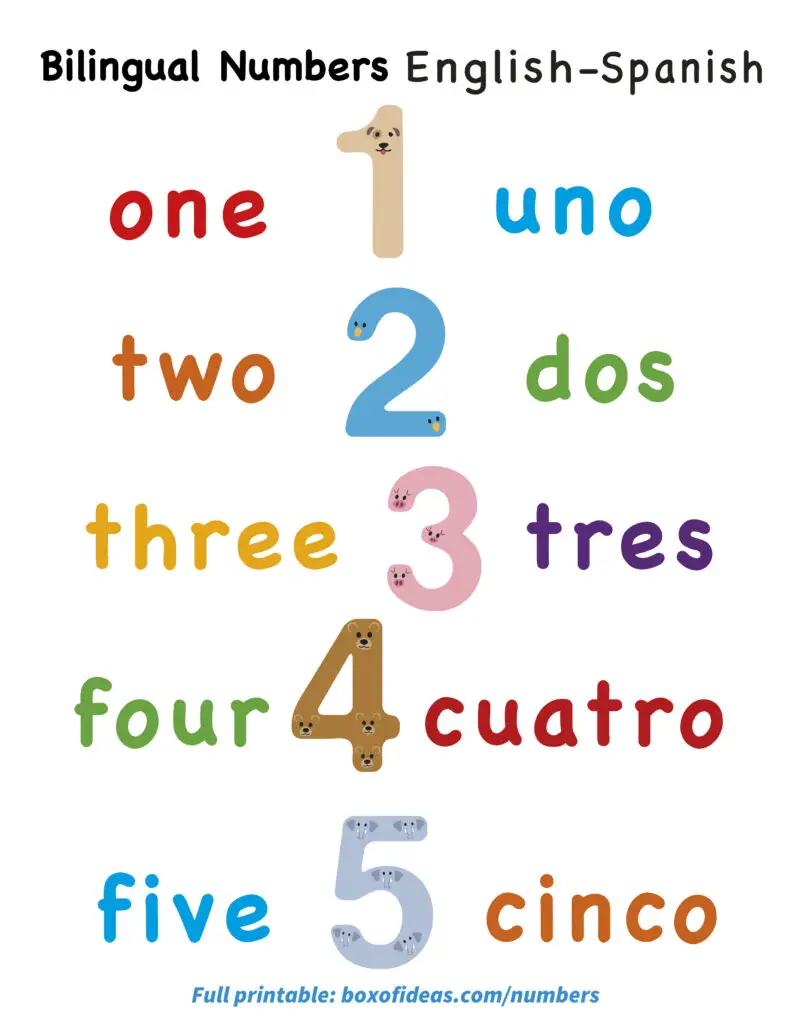 1: one dog – un perro
2: two birds – dos pájaros
3: three pigs – tres cochinos
4: four bears – cuatro osos
5: five elephants – cinco elefantes
6: six penguins – seis pingüinos
7: seven caterpillars – siete oruguitas
8: eight chicks – ocho pollitos
9: nine cats – nueve gatos
10: ten bunnies – diez conejitos
1-10 Numbers in English and Spanish
Introduce your learners to numbers 1 to 10 in both English and Spanish. With this bilingual aspect, children can familiarize themselves with numbers in both languages, expanding their vocabulary effortlessly. This strong foundation in bilingual language development sets the stage for future language learning success.
Bilingual Classroom Posters
Enhance your Spanish classroom decor with our included number posters. These ready-to-print posters add a vibrant touch to your classroom walls, creating an engaging learning environment for all learners, including English-Spanish speakers. Embrace a classroom that celebrates diversity and encourages multicultural learning experiences.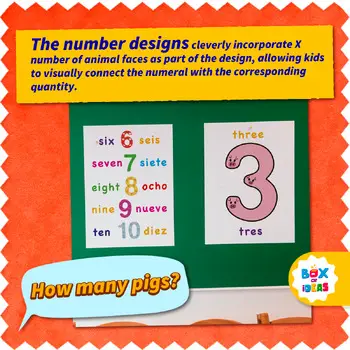 Bilingual Number Coloring Pages
These animal number illustrations are designed with toddlers, preschoolers, and kindergarteners in mind, featuring thick outlines that are beloved by young learners.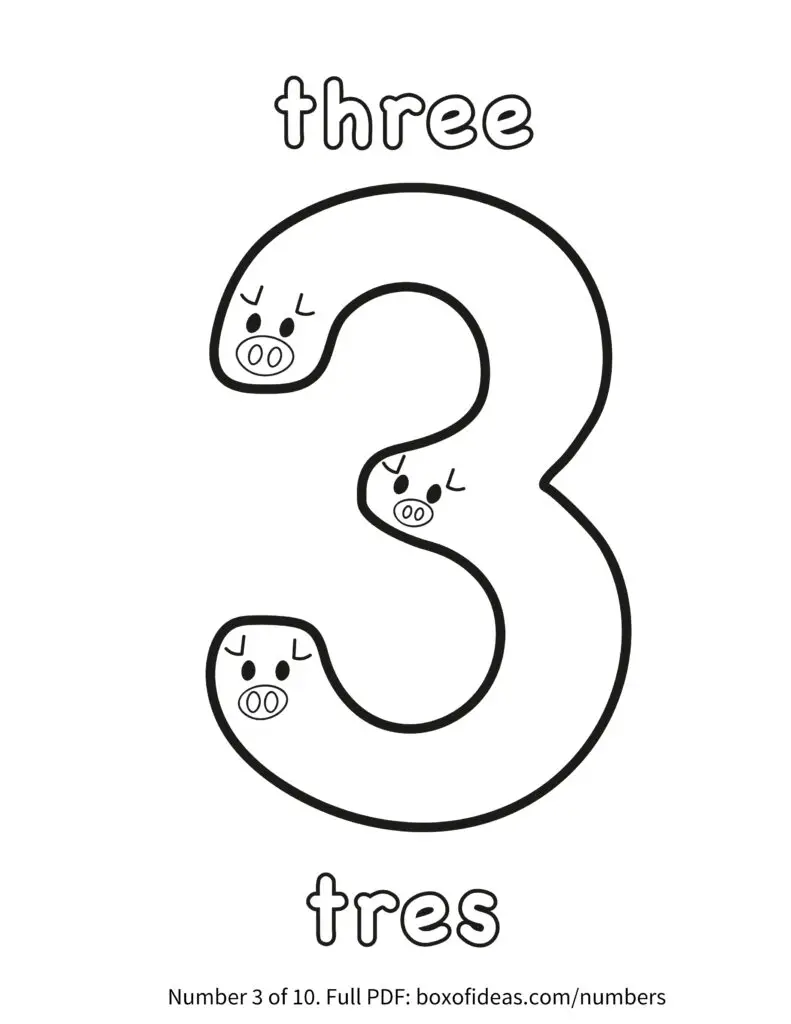 Let their creativity shine as they bring these illustrations to life with vibrant colors, at the same time as they count the number of animal faces in each number.
English-Spanish Number Flash-Cards
To transform coloring into an interactive learning experience, we've included ready-to-cut flash-card templates for numbers 1 to 10 in Spanish and English.
Children can color, cut, and create their own personalized flash cards, which serve as engaging tools for practicing counting, reinforcing number recognition, and promoting hands-on learning.
These flash cards also come in full color. They are a valuable resource for both classrooms and home use.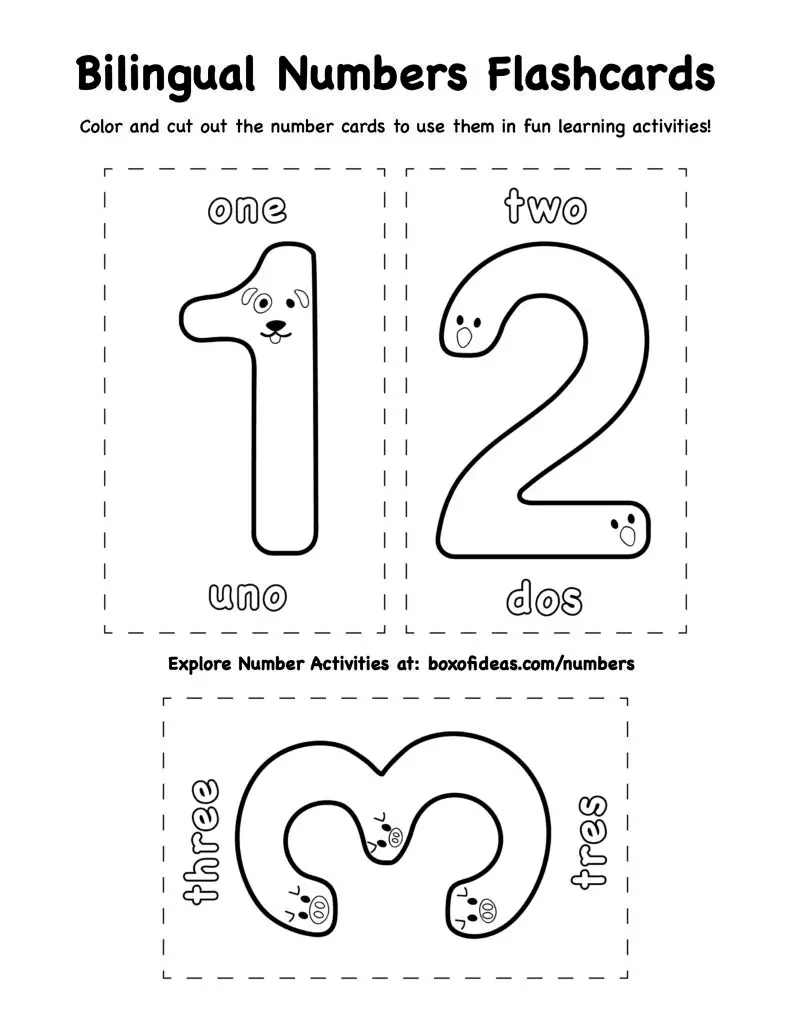 Ideas for activities to do with number cards
With these or any other dual language number cards you can do the following number learning activities with young children:
Counting Game: Have children use the number flashcards to practice counting aloud. They can hold up each card as they count, helping them develop number recognition and sequencing skills.
Numbers Matching Game: Create a matching game by pairing the number flashcards with an equal number of objects or pictures. Children can practice matching the correct number with the corresponding quantity
Ordering Numbers: Lay out the number flashcards in random order and ask children to arrange them in sequential order from 1 to 10. This activity helps reinforce number sequencing skills.
Number Hunt: Hide the number flashcards around the room or outdoor area. Encourage children to find the cards and identify the numbers as they locate them. This activity promotes active learning and engagement.
Number Line Activity: Create a number line on a wall or floor using the flashcards. Children can place the cards in the correct order along the number line, reinforcing number recognition and understanding of numerical order.
Add and Subtract: Use the flashcards to introduce simple addition and subtraction concepts. Children can practice adding or subtracting objects based on the numbers shown on the cards.
Memory Game: Create a memory game by turning the number flashcards face down. Children take turns flipping over two cards, trying to find matching pairs of numbers and their corresponding quantities.
Number Sorting: Provide different containers or trays labeled with numbers. Children can sort objects or pictures into the corresponding containers based on the numbers shown on the flashcards.
Counting Objects: Use the flashcards to practice counting objects. Children can place the correct number of objects (e.g., blocks, toys, or buttons) next to each flashcard, reinforcing one-to-one correspondence.
Number Patterns: Create simple number patterns using the flashcards. Children can identify and continue the pattern by placing the appropriate cards in the sequence.
Roll and Count: Roll a dice and have children count and display the corresponding number flashcard. This activity combines number recognition and counting skills.
Storytelling: Use the number flashcards as prompts for storytelling. Children can create imaginative stories incorporating the numbers and their corresponding quantities, fostering creativity and language development.
100% Human-Made Illustrations
Dive into the captivating illustrations crafted by an experienced educator with a talent for nurturing young minds through design. Each illustration is thoughtfully created to spark imagination and engage children in the learning process.
Provide your children with a valuable resource for dual-language learning that combines creativity, language development, and fun!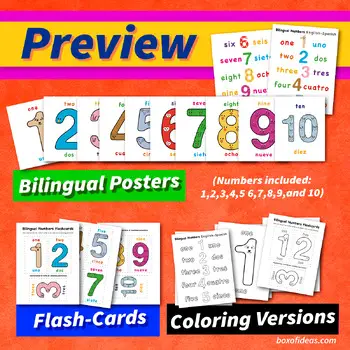 ► WHAT'S INCLUDED
Letter-size PDF files in high resolution:
12 Pages in color of Bilingual Number Posters in Spanish-English
12 Pages in black and white of the Bilingual Number Posters in Spanish-English
3 pages in color of the flashcards of numbers 1 to 10
3 pages in black and white of the flashcards of numbers 1 to 10
Download PDF
Option 1 (Teachers Pay Teachers account required)
Option 2 (Etsy – no account required)
Option 3 (Gumroad – no account required)
Get them as a Bilingual Coloring Book!
You can get our Bilingual English-Spanish numbers as a coloring book on Amazon.
Selected Mexican Activities for Kids: