Inside: Preschool game where the children come up with ideas of round-shaped things that have a specific color. Includes free color names template in English, French, German, Italian, Portuguese and Spanish.
If you are teaching names of colors to kids (in any language) you should try this idea.
Your kids will use their creativity to come up with things that include a circle shape as a base and have a specific color.
---
RELATED IDEA: Morning Greetings Poster for the Classroom
---
Video:
Watch and share this video on Facebook.
The colors included are: red, blue, green, yellow, pink, orange, purple, gray, black, brown and white.
To keep it multilingual, the PDF is available in English, French, German, Italian, Portuguese and Spanish as well as a BLANK version so you can add the names of the colors yourself in any other language(s).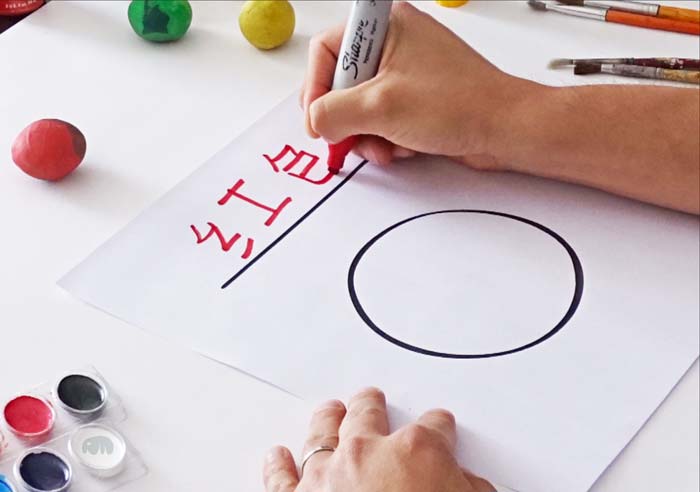 2. Using the circle shape as a base, the kids should come up with a drawing of something that is mainly of the color named at the top of each page. This will help to exercise their creativity as well as their color identification skills.
3. Now it's time to add color with crayons, paint, use it as a playdough mat, or do whatever the kids decide with whatever materials are available to them.
You might also like: 1 to 10 Numbers Printable
Idea twist:
Practice with many combinations of shapes and colors. Use a black marker to draw different non-circle shapes that the kids can use as a base for their designs. Can you think of something yellow and triangular that is not an Angry Bird?
A few examples:
Printable Preview
Here are a few samples of the printables that you get with your download (the images below have mixed languages for display purposes only, in your download all the printables are nicely organized by individual language):
Get the PDF:
---
This resource is also available on Teachers Pay Teachers
---
Looking for bilingual numbers?