Celebrate Day of the Dead with this creative classroom decoration sun catcher for the windows. ¡Feliz Día de Muertos!
_______________________________
You might like: Mexican Piñata Craft
_______________________________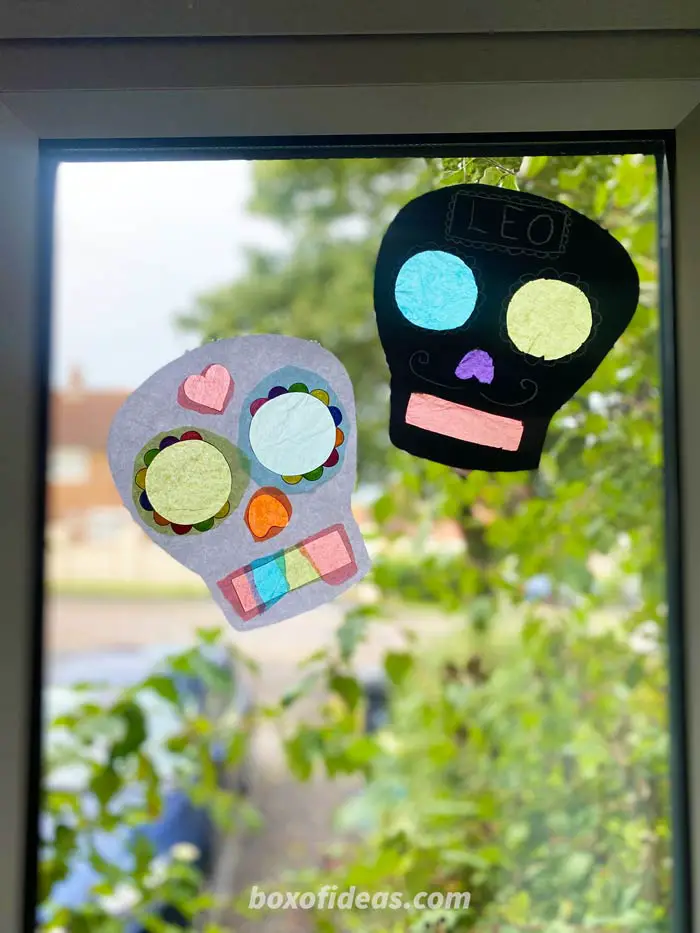 Day of The Dead Window Decoration
These creative decor idea for Dia de los Muertos is the perfect Day of the Dead classroom decoration for windows. Alternatively, make a festive bulletin board around November 2nd with these sugar skull crafts.
★ How to make the Stained Glass Sugar Skulls
Print directly on card or print and then trace the template onto a piece of cardboard.
Cut out the sugar skull.
Add any decorative touches to the front of your skull using the art supplies of your choice.
On the back of your already-cut-out skull, paste bits of tissue paper that are big enough to cover each hole.
Place your sugar skull on a window and see the colorful lights shine through it!
BONUS TIP: To practice some writing skills encourage the children to write their name on the skull's forehead, just like we do traditionally in authentic Mexican sugar skulls.
_____________________________________
You might also like: Frida Kahlo Kids Craft
_____________________________________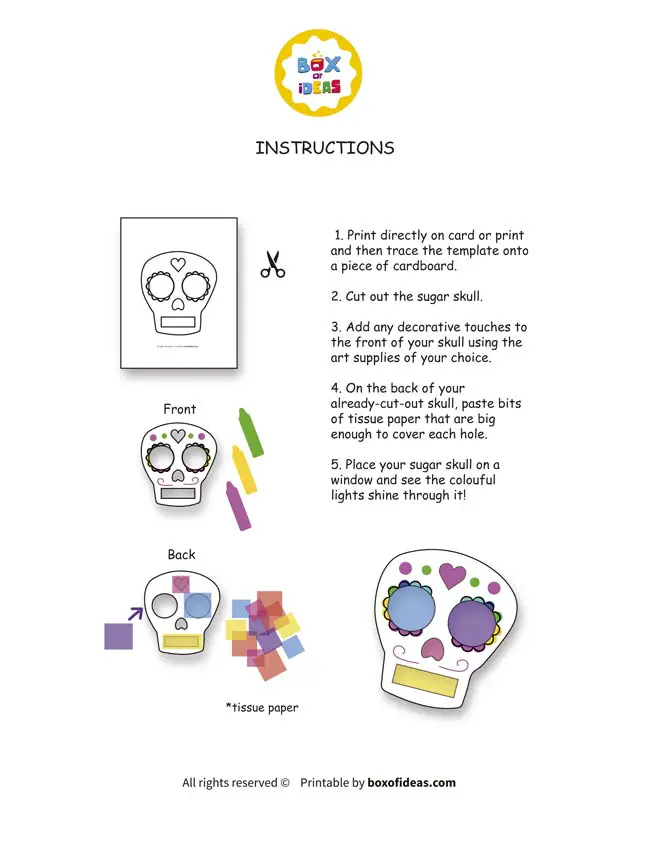 ► An original Hispanic Heritage Month craftivity
Use this Mexican Sugar Skull craft as one of your hispanic heritage month activities. 
Each student can design their own sugar skull craft, adding their own individual and original creative touch then they can be brought together as part of a Latinx American culture themed classroom bulletin board.
► Why is this resource useful?
Day of the Dead decorations for the classroom
Early finishers activity in Spanish class
Spruce up your Spanish classroom decor
Grow your collection of Spanish activities
After-school club or Spanish club time-filler
Complement a Day of the Dead lesson or Mexico culture unit
A low-prep hispanic heritage project
Decorate a hispanic heritage month bulletin board or display
This activity welcomes all levels of artistic skills. Successful with young people ranging from Pre-K, Kindergarten, Elementary up to Middle School and High School. The piñata designs can be as simple or as complicated as each person wants.
► WHAT'S INCLUDED
This digital download includes a PDF file in High resolution with 19 pages:
(3 pages) Dotted Line stained glass sugar skulls templates
(3 pages) Black stained glass sugar skulls templates
(3 pages) White stained glass sugar skulls templates
(9 pages) Mini versions of all stained glass sugar skulls templates
Download PDF
Option 1 (Teachers Pay Teachers account required)
Option 2 (Etsy – no account required)
More Mexican Activities for Kids