Inside: Posters of Morning greetings choices for Kindergarten, Preschool and elementary classrooms.
Start your daily morning routine by empowering your children with a greetings chart at the door. Invite the children to point at a visual greeting chart with morning greeting choices to receive a warm welcome from you (the teacher) or from a morning greeter (child).
Don't forget to check my other printables to enhance your learning environments 🙂 Like these 1-10 Animal Numbers or these Colour names activity that come in 5+ languages.
Keep reading to see examples of teachers using a greeting choices in their classroom and to download a copy of a morning greeting choices display that you can print for your own Kindergarten or Preschool classroom.
Social Distancing Greetings Poster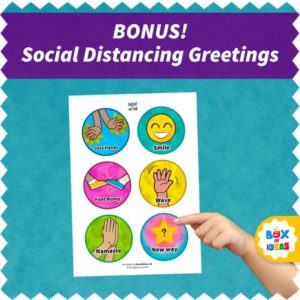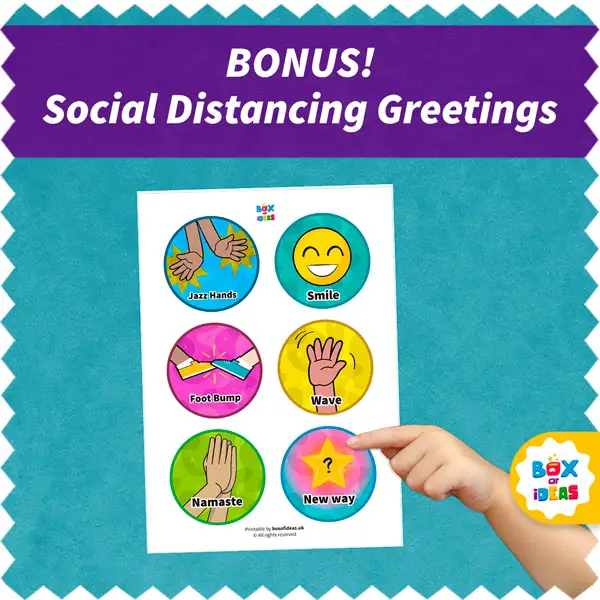 ThisSocial Distancing Greetings poster with non-contact options is included with the download of the regular greetings choices poster. Nevertheless, you can get the social distancing poster by itself through TpT.
As one of your distance learning activities introduce a fun daily morning routine by empowering your children with a poster of greeting choices at the start of your Zoom activity as a virtual way to enter the classroom.
How to use the Morning Greetings Choices for Distance Learning and Social Distancing Greetings:
At the start of your live virtual meeting (with Zoom any platform that you are using), show the poster on screen so the students can choose how to greet you as they join in.
Jazz Hands
Foot Bump
Namaste
Smile
Wave
New Way (anything distance-friendly that the children come up with)
_______________________________________
NOTE ON ZOOM:
We recently published a fun scavenger hunt for kids indoor, in case you want to try it in your Zoom lessons!
_______________________________________
No-Words Poster
UPDATE: The Poster is now available also without words if you decide to purchase it from my TpT store
Spanish Version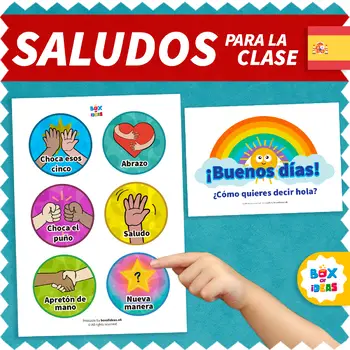 The chart is available in Spanish in my TpT shop. Gracias!
CHRISTMAS VERSION
Ho, ho ho! See it here.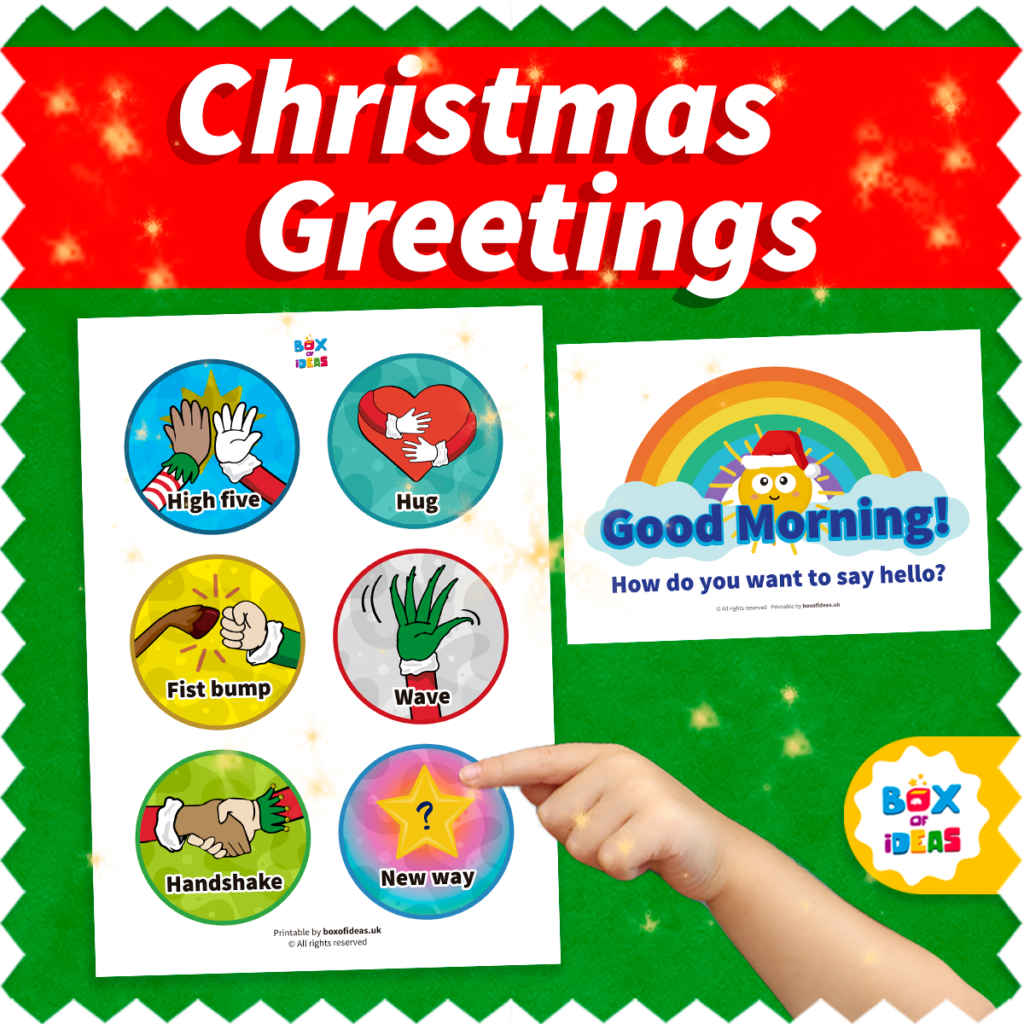 10 Reasons to use a Greeting System with a Greeting Choices Chart in your Preschool and Kindergarten Classroom:
Support children that speak a different language (EAL).
Make everyone feel welcomed in your classroom.
Let the children experiment with different ways of social interaction.
Make the classroom more inclusive for children with learning difficulties.
Empower children to make their own choices.
Encourage interaction amongst all of your students (and with yourself!).
Help children have a small boost in their self-confidence.
Set a positive tone in your students right from the start of the day.
Strengthen relationships amongst your students.
Promote a safe classroom culture.
Would a Morning Greeter System help shy children to develop their confidence?
In this morning routine the teacher names a different Morning Greeter each day so everyone gets a chance to greet the other students. Naturally some children will enjoy this more than others.
For children with not-so-high confidence, I would recommend that you play the role of the greeter with them by your side and let them join in as much as they feel comfortable with, and gradually work your way up. Yes, it may take weeks but forcing them to greet everyone right from the start might harm their self esteem more than help them.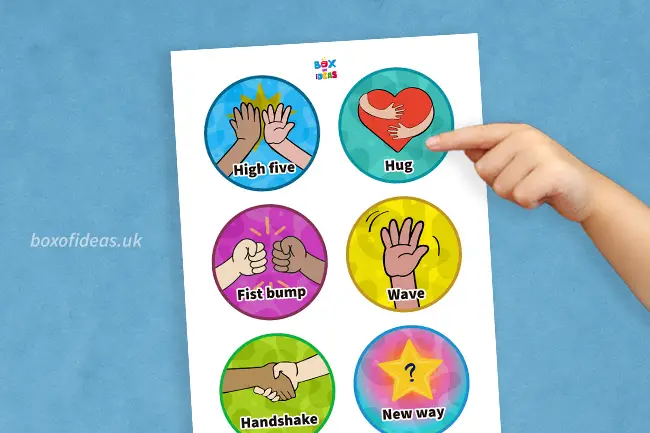 Videos of teachers that use a Morning Greetings System in their daily routine.
Below you can see teachers from around the world using different morning greeting systems with their preschool and primary students. So even if you don't want to print a visual morning greetings chart, you can get ideas from these professionals on how to make it work for your class.
In the Facebook video below, Mrs. Sparks's students line up by the door and tap on one of the four pictures that are posted on the wall. The images feature two Minions doing a high-five, a dancing crowd, a picture that represents a hug and lastly, something that looks like a representation of an elbow-bump? (I am using my imagination here!). What I liked about this teacher is that not only she is smiling to everyone, but that she says the name of each child as she greets them. Also she gets down to the children's level to establish a closer eye contact, which as you know, is always a gold practice when interacting with young children.
In Mrs. Gutshall's Twitter video she shows us how one of the students stands next to round signs that represent a high-five, a heart (for a hug), a verbal hello greeting, a fist-bump, a handshake, a hand wave, and a "your choice" option. The children seem excited to choose their greeting and even if the morning greeter of the day could turn down a notch in the intensity of the fist-bump, he does a good job accepting everyone's choice and giving them a warm smile as he greets them.
Love these greeting choices in the morning! ? Great way to start the day! ?? pic.twitter.com/oEbn17IvUV

— Carrie Gutshall (@Mrs_Gutshall) 20 de noviembre de 2018
In the next video a teacher from the Philippines keeps it simple by giving the students four options, represented by simple drawings that she probably painted herself (yeah teacher!). We see again a heart for a hug, a palm for a high-five, a handshake, and a fist-bump.
In the following video we see preschoolers choosing their morning greeting by pointing at a chart that is not even placed on the wall. So you can see that even if you are out of space in your classroom walls, there is no excuse to not give this a try! Look how happy they look 🙂
In the last video we can see a teacher that gives her students a greeting choice without using any visual aids. After asking them to clean their hands with hand sanitizer, she asks them "Handshake, high-five, hug?" and each child chooses individually what they want. In my opinion a visual aid would help the cue flow more smoothly (besides helping children that would benefit from having a visual aid) but doing it verbally is much better than doing nothing.
Watching this video also made me think about how in UK we are not allowed to use hand-sanatizer with the children, but that might be just in my setting (please let me know if you know any different by shooting me a DM on Instagram).
Printable Morning Greeting Choices Charts ready to download and print for the classroom
Download PDF
Option 1 (Teachers Pay Teachers account required)
Option 2 (Gumroad – no account required)
I designed an illustrated Morning Greetings Chart that you can download here. I designed it having diversity in the classroom in mind, illustrating different skin-tones for the arms and hands.
In this printable your students will be able to choose amongst these different types of greetings:
High five
Hug
Fist Bump
Hand-Wave
Handshake
New way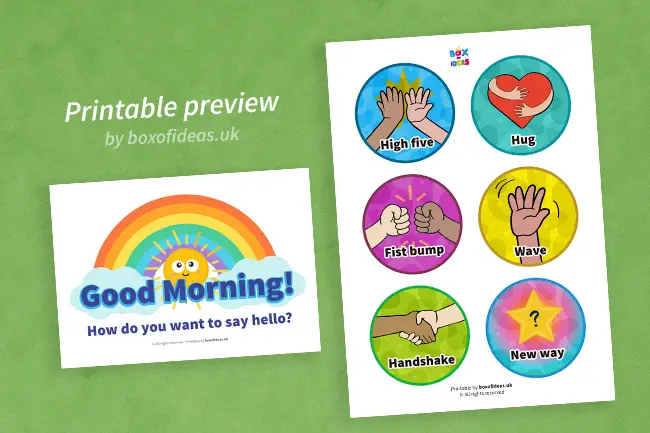 I deliberately left out the popular "dance" option. "Why are you such a Grinch teacher Roy?!" You may ask. Well, I did it because I imagine the thought of having to do 25 silly dances in a row might discourage a lot of overworked teachers from using my morning greetings chart, and that would be a shame. Anyway, if the children REALLY want to do a dance or anything more creative, they can always use the "New Way" option in the chart.
I understand that you may want a different design for your chart with other options or even with real photos instead of illustrations, so I compiled a few other downloadable charts so you can choose the one that is suitable for your classroom (note that some of these greeting choices charts are not free).
Illustrated Morning Greeting Choices by Box of Ideas
Editable Morning Greetings: Hug, Handshake, High-Five, or Fist-bump by The Core Coaches
Morning Greeting choices by Apples to Applique
The Power of Morning Greetings by Mrs. Winters Bliss
Best Morning Greeting Choice boards on Teachers Pay Teachers
You may also like: