Say ¡Viva México! with this fun Mexican piñata activity suitable for ALL artistic levels. ALL-year round classroom decor and craftivity.
¡Viva!
_______________________________
You might like: Day of The Dead Sugar Skulls Activity
_______________________________
★  3D and 2D Paper Piñata Craft for Kids 
Cut the piñata parts and add color como tú quieras. If you want to make your piñatas super nice and traditional-looking… use tissue paper in bits to make your design bien mexicano.
★ How to make the 3D Piñata Craft
Traditional 'piñatas navideñas' (Christmas piñatas) for the 'posadas' before Christmas deserve a spot in your hispanic heritage activities plan by the end of the year.
Simply print the piñata printable twice and fold each section in half for a half-3D piñata, (i.e. flat on one side).
Do this twice if you want to make a full 360º 3D piñata.
The piñatas look SO GOOD as hispanic classroom decorations and also great for splashing Mexican colors in your casita.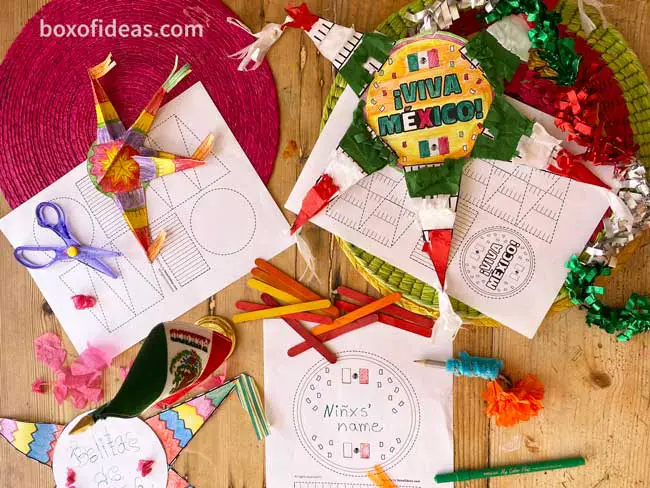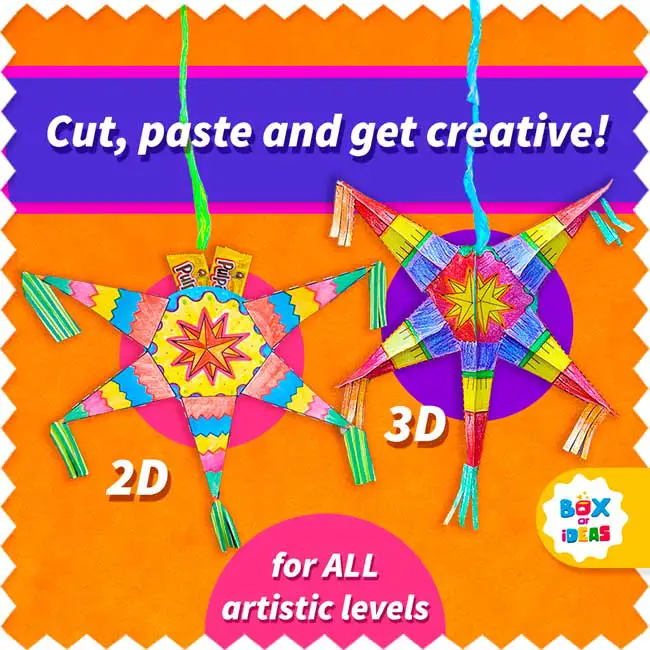 ★  Make room for the fruta….
To make a pocket so your piñata can hold a cheeky treat, fold a paper plate in half, attach your piñata to it, and secure each side to attach everything together. Use either a stapler or tape.
Now you can fill in your kids piñata craft with a healthy fruit like the tradition… or be like modern Mexicans and add muy tasty alternativas. 
★ Practice scissors skills, OR DON'T!
This piñata activity for children can be used with people of ANY artistic ability.
Need a zero-prep piñata activity? A scissors-free version is included, besides the other version with nice-and-clear cutting guides. 
We added a little Bonus Mexican piñata coloring page for you.
Good for Spanish class at different moments of the year, and ready for an appearance in a Mexico Unit, Latin America Studies or Christmas around the world lesson.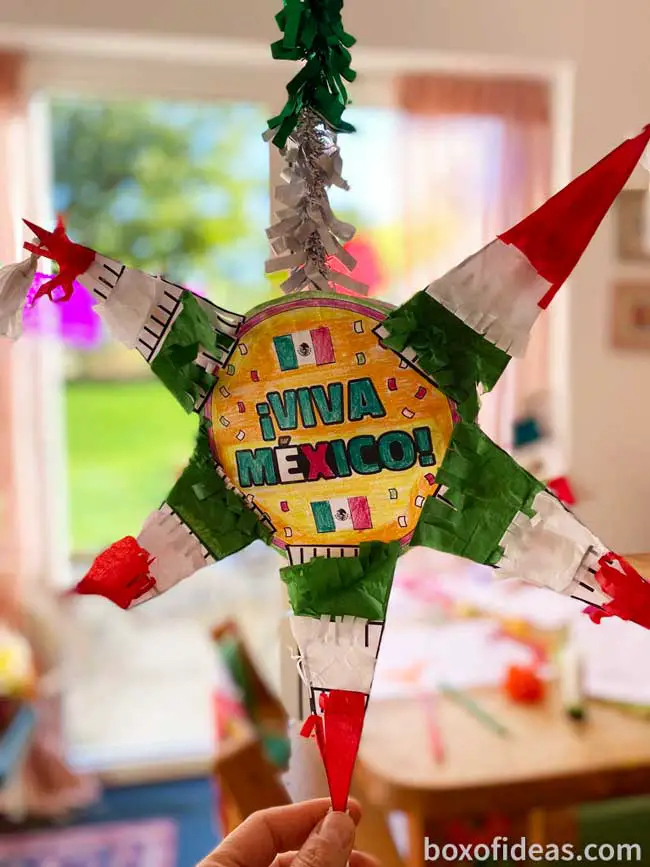 ★ So when do you 'Piñatas'?
No, really. Different moments of the year where this fun arts and craft project can become your 'WOW that's-so-cool' bulletin board decorations are:
Hispanic Heritage Month
Latinx Heritage Month, Cinco de Mayo
16 de Septiembre (Mexico Independence Day)
Fiestas Patrias de Septiembre
Dia de la Bandera, Dia de Muertos for the 1st of November (All saints, the day before Day of The Dead).
December for traditional Mexican posadas before Navidad (Mexican Christmas activity).
And….
We suppose you could use the included Blank Piñata Templates to make a Feliz Cumpleaños card?
_____________________________________
You might also like: Frida Kahlo Kids Craft
_____________________________________
► Spanish Classroom Decor for TODO EL AÑO (all year long)
Use this Piñata craft project as part of your Spanish class activities throughout the year or for your Spanish classroom door decor.
From Hispanic heritage month in the fall, or Christmas piñatas in holiday season, these traditional Mexican decoration can be adapted to your Spanish teacher needs.
► An original Hispanic Heritage Month craftivity
Use this Mexican Piñata craft as one of your hispanic heritage month activities. 
Each student can design their own piñata paper plate craft, adding their own individual and original creative touch then they can be brought together as part of a Latinx American culture themed classroom bulletin board.
► Why is this resource useful?
Early finishers activity in Spanish class
Cutting practice and fine motor skills activity for kindergarten, K1, Preschool and PreK Classrooms.
Excelente decoración de jardín de niños around Navidad and fiestas patrias.
Spruce up your Spanish classroom decor
Grow your collection of Spanish activities
After-school club or Spanish club time-filler
Complement a Mexico culture unit
A low-prep Hispanic heritage month project 
Create a colorful bulletin board or display
Use as part of Christmas around the World lesson
No prep fast color-in versions
Mexico Independence Day Activity
This activity welcomes all levels of artistic skills. Successful with young people ranging from Pre-K, Kindergarten, Elementary up to Middle School and High School. The piñata designs can be as simple or as complicated as each person wants.
► WHAT'S INCLUDED
Letter-size PDF files in high resolution:
Big Piñata printable – One page for the piñata's centre part (15cm) and one page for the spikes (15cm long).
Small Piñata printable (one page with 2 sets of 20cm piñatas)
All sizes come in 4 different designs: 'Viva México, Festive Star, Mexico Flags with space for your own text, and BLANK.
Instructions and photos of finished examples
Download PDF
Option 1 (Teachers Pay Teachers account required)
Option 2 (Etsy – no account required)
Option 3 (Gumroad – no account required)
More Pinata Activities for Kids from Pinterest
How To Make DIY Mini Pinatas by Somewhat Simple
How to Make a Piñata From a Paper Bag by The Spruce Crafts
Piñata Craft for Kids by Kindergarten Nation
More Mexican Activities for Kids