Inside: Small and large numbers 1-10 printable for kindergarten in English, Spanish, French, German, Italian and Portuguese. Also available for as numbers 1-10 printable flashcards and 1-10 number cards printable coloring pages.
---
Use these numbers with cute animal faces to teach counting and numbers recognition to kids in any language.
We do have a bilingual coloring book on Amazon with these numbers 1-10 in English-Spanish
Each design has an X amount of animal faces within the number that matches the value of each number (i.e. Number three has three little pigs ?) so your kids can count them.
Pre-K and Preschool students can count the number of animals illustrated in each numeral.
Available as flash-cards, posters and coloring pages.
The Animal Numbers Bundle includes 3 PDF files:
1 to 10 Numbers Individual Posters
1 to 10 Numbers Flashcards
1 to 10 Numbers Coloring Pages
And, since I love everything multilingual the bundle is available in 6 different languages, as well as a Blank version (so you can add the numbers yourself in any other language):
English
Spanish
French
German
Portuguese
Italian
---
You might like: Morning Greetings Choices Chart
---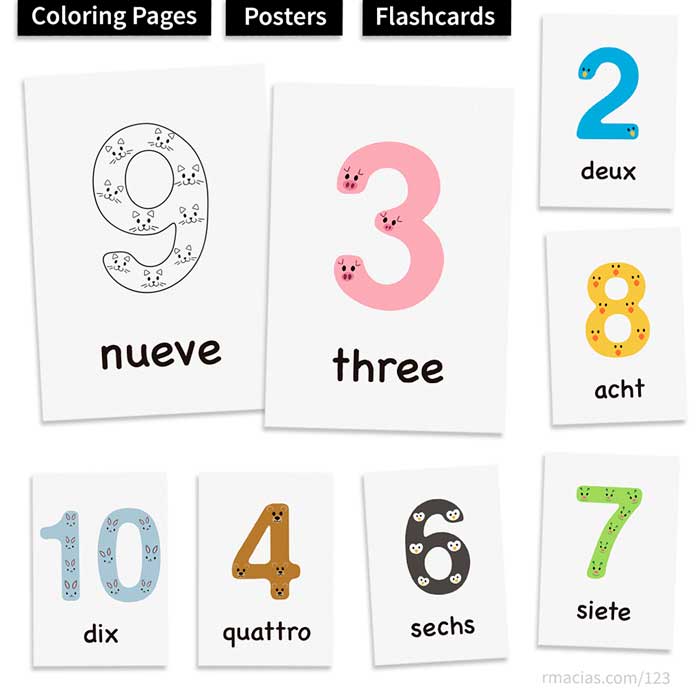 Bilingual kids tips
Make a bilingual numbers memory game (a normal sized one using the flashcards or a GIANT one using the posters).
Make dual-language numbers flashcards by pasting the cards back-to-back in your chosen languages.
You might like: Colors + Creativity Game: Practice Color Names in Any Language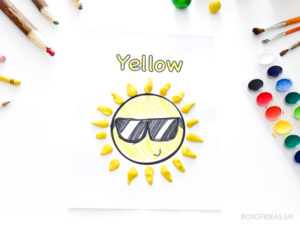 DIY Adding and Counting Machine – A fun way to learn addition
A nice teacher from Mexico sent me this video where he used the Animal Numbers to make an "addition Machine" (Máquina de sumar, in Spanish).
He used two painted toilet rolls and taped them to a shoe box.
Above each of the toilet rolls he placed one of the number flash-cards to indicate how many pom-pons the student should introduce. Then the child only needs to count the total number of pom-pons in the box to know the answer.
Another teacher from a Facebook group commented that the machine could be improved by placing a "+" symbol between the flash-cards.

If you make anything with this numbers printable, please consider sending me your video to be featured in my Facebook Page so other teachers can get inspired by your idea.
Printables Preview
Here are a few samples of the printables that you get with your download (the images below have mixed languages for showing purposes only, in your download all the printables are nicely organized by individual language):
Printables Preview:
Fun Games to Teach Numbers to Kids
Below is a compilation of number activities explaining how to teach numbers to preschoolers / homeschoolers.
Links about how to teach numbers to kids in their mother tongue:
Ways to Teach Counting – By Prekinders
Smack the Number Counting Game – By Mom Inspired Life
Teeth Number Games for Preschool – By Totschooling
Fun with Numbers and Fruit Loops – By Homeschooling Mom 4 Two
Magic Colored Beans Sorting Activity – By The Imagination Tree
Links about how to teach numbers to kids in a different language:
Numbers and Counting ESL Games for Kids – By ESL Kid Stuff
4 Counting Games to Teach Spanish Numbers in 1, 2, 3 – By FluentU Spanish Educator Blog
5 German Number Games to Make Your Lesson Count – By FluentU German Educator Blog
5 Fun Italian Games for Learning Numbers – By TakeLessons
Get the PDF:
Are you a TpT user?
This resource is also available on TeachersPayTeachers