Inside: Crafty Frida Kahlo project for kids of all artistic levels. Fun to make with prek-k, preschool, kindergarten and elementary students. A Frida Kahlo template to cut and paste is included.
Honoring one of the most famous women from history, a Frida Kahlo activity is great for celebrating different important events throughout the school year, such as International women's history month, international women's day and Hispanic Heritage Month.
Update!
We made this Frida Kahlo into a Sugar Skull Craft for Day of the Dead.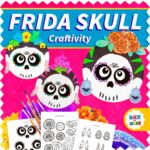 Save this Frida Kahlo on Pinterest:
Make this fun Frida Kahlo paper plate craft and learn about famous women in history (keep reading for interesting facts about Frida Kahlo and other useful information for Frida Kahlo lesson plans activities).
Since this craftivity welcomes all levels of artistic skills, it works with children ranged from Pre-K, Kindergarten and Elementary as a creative activity, up to Middle School and High School classrooms studying famous women history. The Frida Kahlo designs can be as simple or as complicated as each student chooses.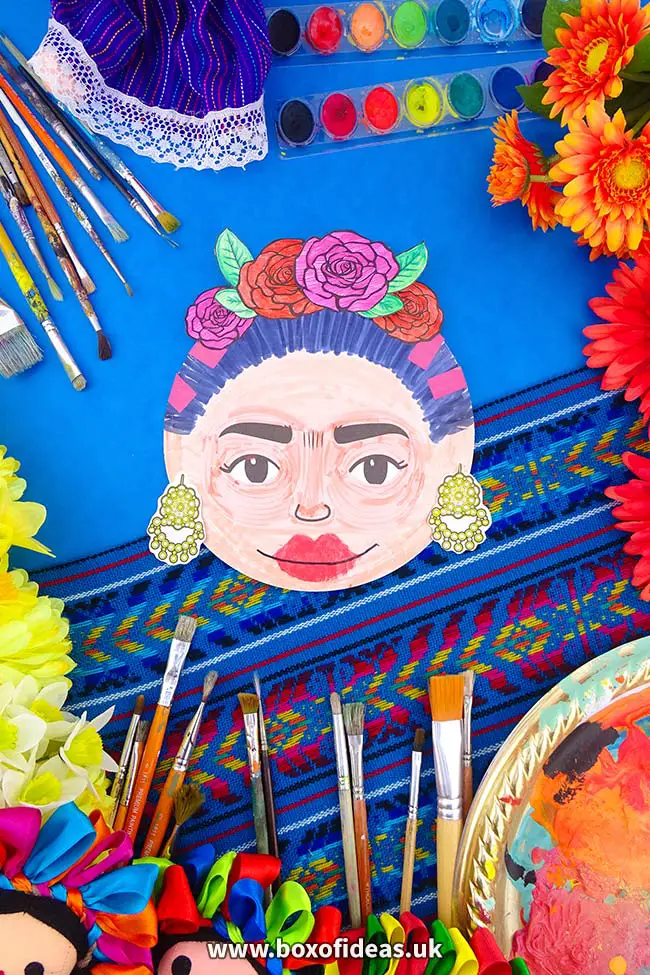 _______________________________
Suggestions for Hispanic heritage month activities: Paper Plate Skull – Day of The Dead Craft and a List of 10 Day of the Dead Craft Ideas
_______________________________
As a preschool teacher with hispanic heritage myself, I always like coming up with creative Mexican crafts for preschoolers so Mexican culture can be shared in some way with children around the world.
I've always liked Frida Kahlo's surrealist art and how she is portrayed as an important icon of Mexican heritage (quick fact about Frida Kahlo: her face is in Mexico's 500 pesos bill! There is only one other bill in Mexican currency with a higher value, the 1K pesos bill), but I got completely enchanted with her style and way of life after we visited the Frida Kahlo house a few years ago.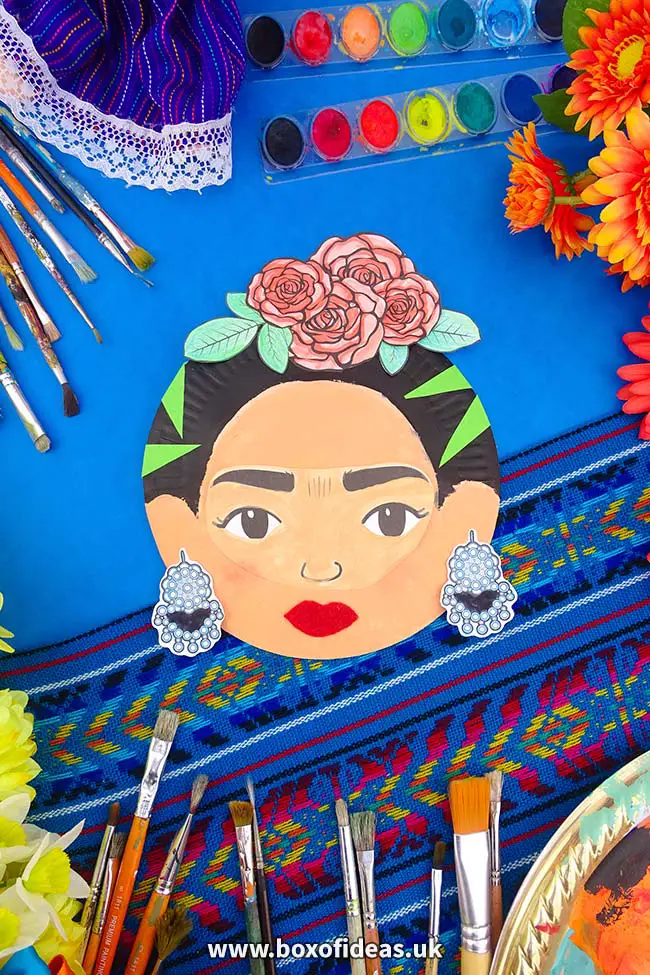 How to Make Frida Kahlo Kids Craft
Materials:
Copy of our Frida Kahlo printable – download at the end of this page
Anything to add color – Crayons, markers, watercolors, or whatever you have at hand
Scissors and glue
Paper plate (Suggested) – The template includes a head shape, in case you rather use paper, felt, foamy or a different material.
Scrap decorative materials, like ribbons, scrap paper, sequences, etc. (Optional)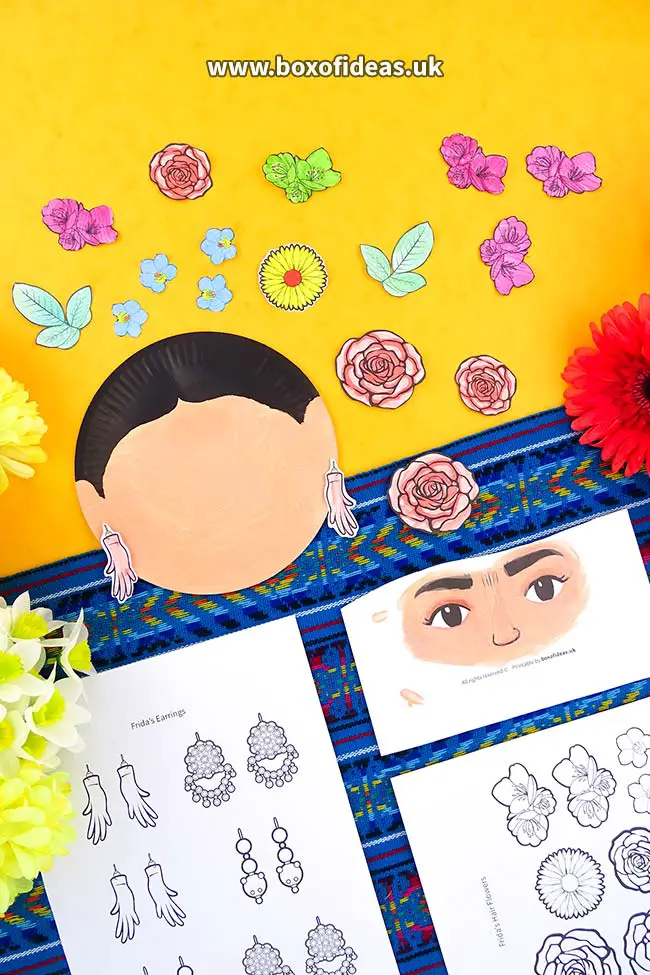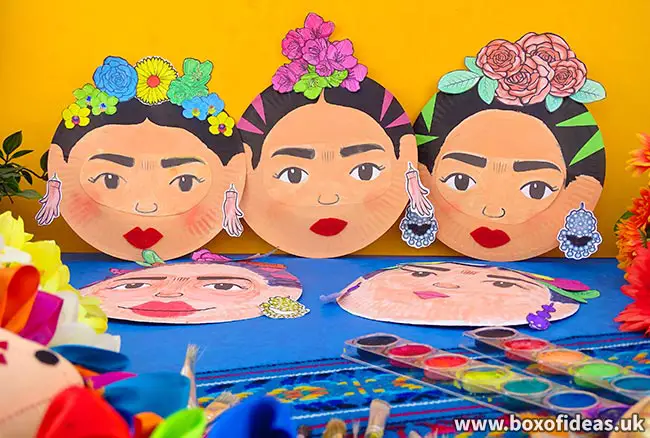 Watch the Video Tutorial:
Step-by-Step Instructions:
Add color to the paper plate (skin and "Frida Kahlo hair" background)
Color-in different elements from the Frida Kahlo printable: upper face, earrings and flowers
Cut-out face, earrings and flowers
Arrange and stick on paper plate
Add lips in your own creative way – Paint, crayon, felt… glitter? Go wild! You could even print a kiss as the mouth.
Add any other creative touches (perhaps some rosy cheeks, hair ribbons, etc.)
Voilá, your Frida Kahlo face is ready!
Extend this idea by adding a famous quote by Frida Kahlo.
Ask the kids to choose one of the quotes by Frida Kahlo that resonates with them so they can write on a piece of paper and write it either in the back of the paper plate or below Frida Kahlo's face.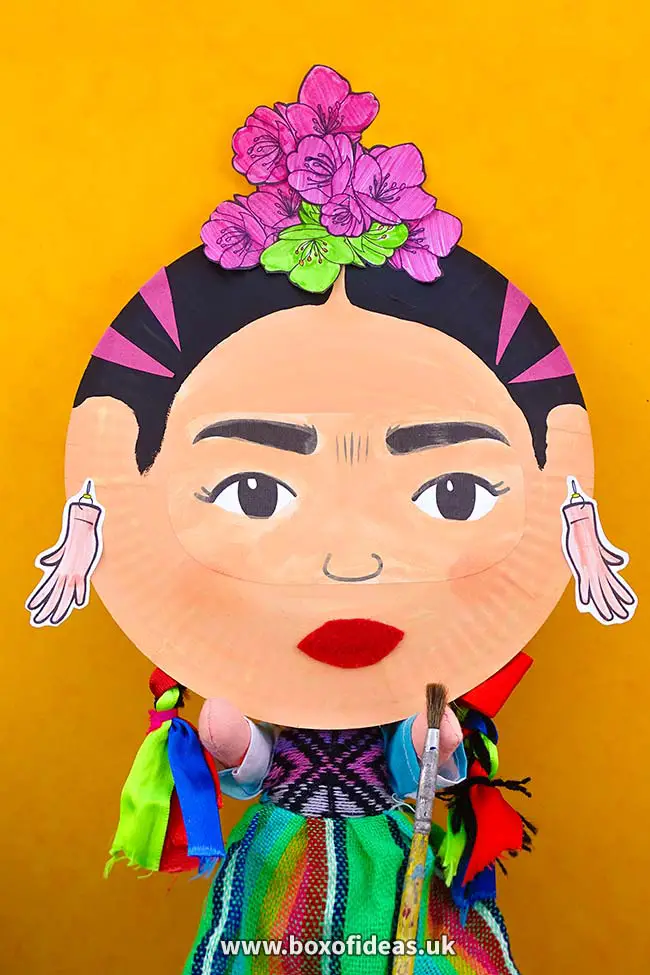 Frida Kahlo Quotes Spanish
The legendary artist passed on many quotes that can be used in class to motivate the students (and practice their Spanish vocabulary!) so here is a selection of Frida Kahlo Spanish quotes that you can use with students in the classroom:

"Nunca pinté sueños. Pinté mi propia realidad"

Frida Kahlo

"Pies, ¿para qué los quiero si tengo alas para volar?"

Frida Kahlo

"Donde no puedas amar, no te demores"

Frida Kahlo

"Árbol de la esperanza, mantente firme"

Frida Kahlo
You can find more quotes in Spanish by Frida Kahlo in Wikiquote, (though not all of them might be appropriate for younger grades. Trust your teacher's gut!).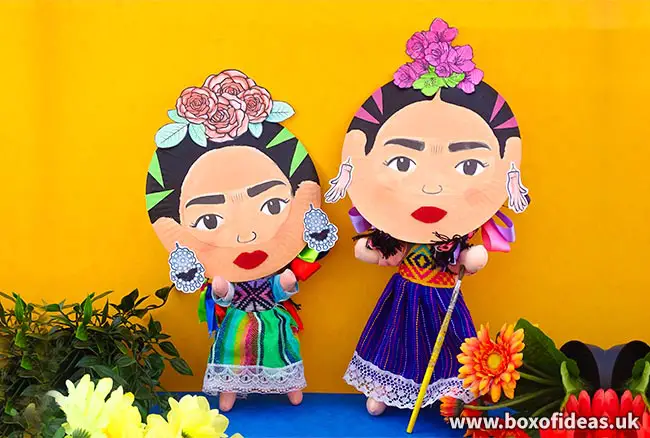 Frida Kahlo Quotes English
Here are the English translations of the Frida Kahlo quotes in Spanish listed above:

"I never painted dreams. I painted my own reality."

Frida Kahlo

"Feet, what do I need them for if I have wings to fly"

Frida Kahlo

"Don't stay for long where you can't love".

Frida Kahlo

"Tree of hope, stay firm."

Frida Kahlo
There are plenty more quotes in English by Frida Kahlo over Wikiquote, in case you need longer ones.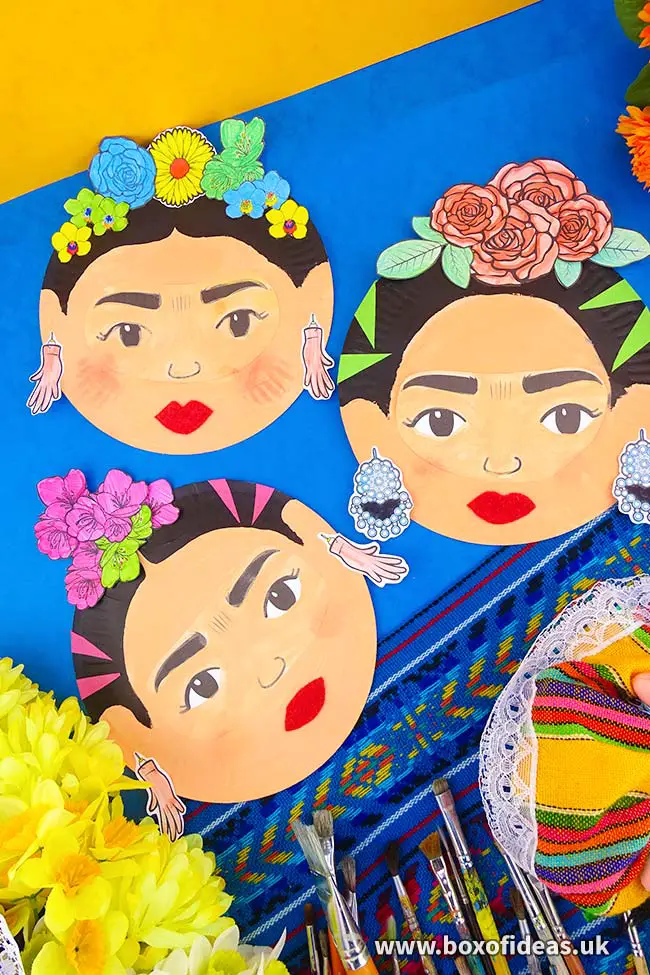 Frida Kahlo Bulletin Board Idea
Each student can design their own Frida Kahlo paper plate craft, adding their own individual and original creative touch then they can be brought together as part of a women's history month themed classroom bulletin board or a Hispanic Heritage Month bulletin board.
For a folkloric backdrop, pin a Mexican serape or Mexican poncho in the background and arrange all the students' Fridas in a beautiful way. You can also print in large letters one of the quotes above to make your bulletin board extra meaningful.
Ideas for a Frida Kahlo Spanish class activity
Adapt this Frida Kahlo project as part of your Spanish class activities or for your Spanish classroom door decor.
You can practice basic Spanish vocabulary by learning the different words of the elements of the Frida you create (ojos, cejas, pendientes, flores, etc).
For more advanced students, they can then write in Spanish about Frida (maybe even a poem) on the back of the paper plate and this can be presented to the whole class. This is a fun way to practice Spanish and the research involved will also help your students learn about Mexican culture and Latin America, so this resource can also be used for Latinx heritage month activities. 
Frida Kahlo Doll Craft
Make a Frida Kahlo costume with paper, stick it to a popsicle stick and attach it to your Frida Kahlo face craft. You have your own Frida Kahlo paper doll!
You can use the flowers included in the printable to make your design of Frida Kahlo clothing match the flowers on your Frida Kahlo hair.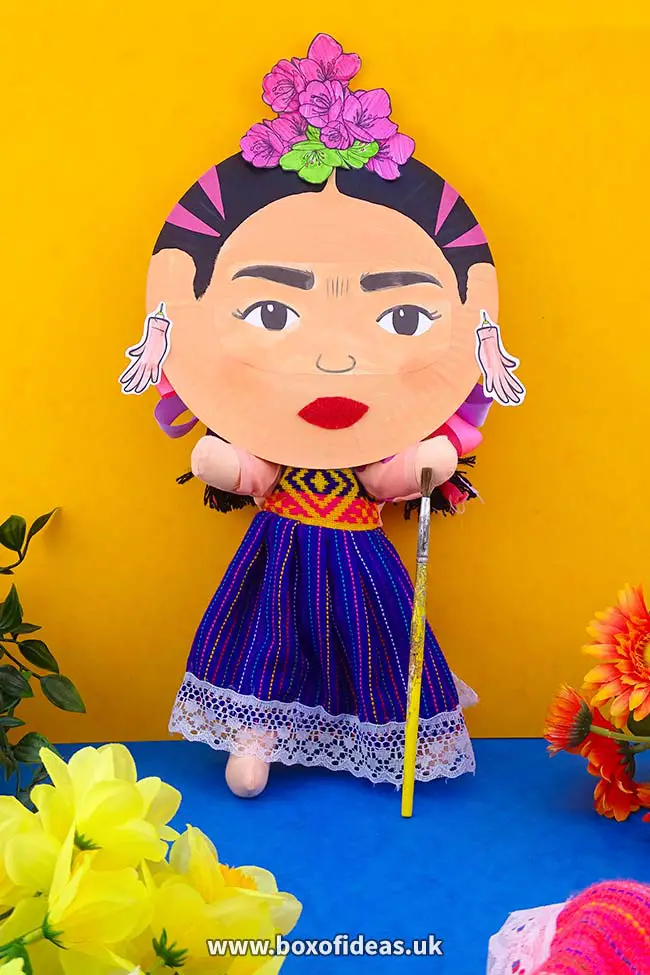 Frida Kahlo Facts
To support your student's learning besides making a beautiful Mexican craft, here's some facts on Frida Kahlo that you can share with the children:
Frida Kahlo was a Mexican artist known for her famous paintings and self-portraits.
Frida Kahlo's art was defined by her unique surreal look and fashion sense which included incredible jewelry, earrings and fantastic floral hair arrangements.
Frida Kahlo has been considered one of history's most important women as she challenged the way society thinks about women's appearances, art, fashion and feminism.
Frida Kahlo was unable to walk for parts of her life but this did not stop her from being a true pioneer.
Frida Kahlo's muse was herself (she had a mirror above her bed so she could paint herself when she was bedridden) but she was also heavily influenced by Mexican folk art.
Useful links with Frida Kahlo facts
Here are more Frida Kahlo interesting facts, in case you need them.
The FridaKahlo.org published a Frida Kahlo biography, but here is also a Frida Kahlo biography for kids if you need a more PG version. It was published by the Kiddle Eencyclopedia (a fantastic child-friendly search engine).
More Frida Kahlo Preschool Activities
In case you need different ideas of Frida Kahlo activities, art activities and other varied "Frida Kahlo for kids" resources, here is a compilation of Frida Kahlo DIY crafts and projects:
Frida Kahlo Projects for Kids by Red Ted Art
DIY Succulent Planter by The Craft Train
10 Fantastic Frida Kahlo Art Projects for Kids by Artsy Craftsy Mom
How to Draw Frida Kahlo Tutorial by Art Projects for Kids
Frida Kahlo Craft by Sugar, Spice and Glitter
A Complete Guide to Introducing Frida Kahlo to Toddlers and Preschoolers by Learn Play Read
Frida Kahlo Lesson Plans, Activities, Coloring Sheets by Mommy Maestra
Suggestions Welcome!
If you feel that your class and other teachers could use activities for other famous women of history besides Frida Kahlo, please message us on Instagram or any other social platform.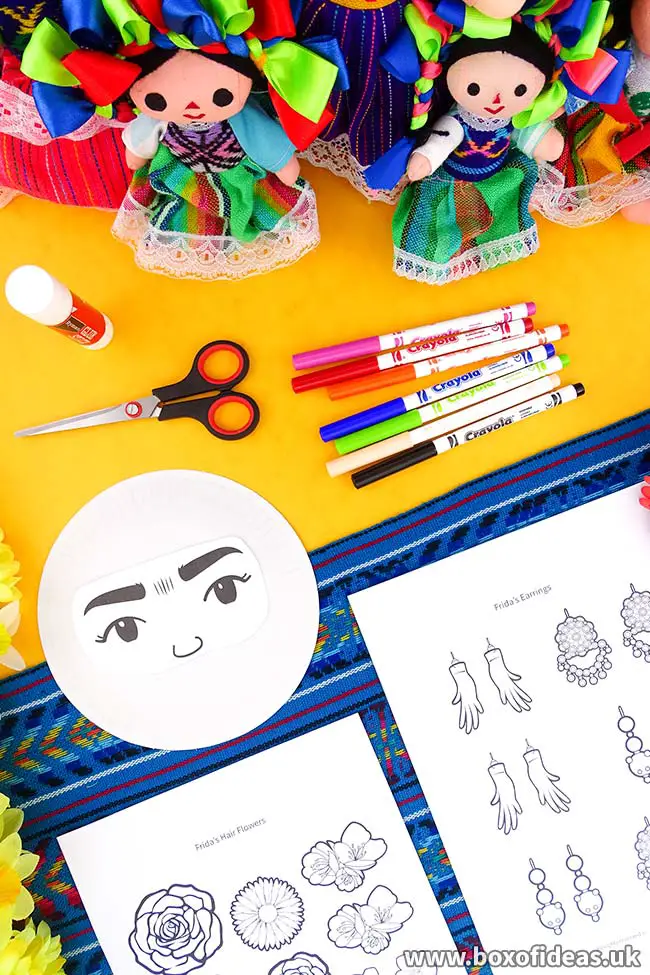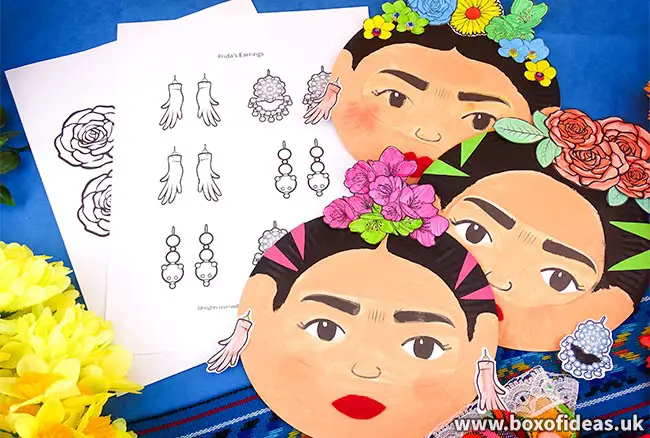 About the Frida Kahlo Printable
The printable pack includes Frida's face, Frida's earrings, Frida's flowers – all based on items she wore in real life which are present in her self portraits. 
The download contains a PDF file with the following:
1 page with Frida Kahlo earrings

1 page with Frida Kahlo flowers (for her head)

1 page with 3 upper Frida Kahlo Face (eyes and nose)

1 page with 1 Frida head outline

1 page with 1 complete Frida head (low prep version)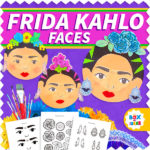 Download PDF
Option 1 (Teachers Pay Teachers account required)
Option 2 (Gumroad – no account required)