Inside: Virtual Christmas scavenger hunt ideas and other Christmas Zoom games you can play with kids. Christmas Scavenger hunt printable included.
Virtual Christmas indoor scavenger hunt is becoming one of the favorite Zoom activities for kids who are doing distance learning. Use this page to get Christmas scavenger hunt ideas for kids and other indoor Zoom games for kids. Save these Zoom Christmas party ideas for games to play with your family beyond a virtual classroom.
Teachers like myself find these "around the house treasure hunts" the type of Christmas zoom activities with students that keep them engaged in the zoom meeting for much longer, as they offer a fun sense of progress and accomplishment, and each student gets to share a bit of their personal world each time they find and show an item from their home.
What makes this December Holiday scavenger hunt game so special?
Most ideas for Christmas games to play via zoom that are found online are usually thought around fully-decorated homes of upper and middle class families. All the 'find it' prompts in this christmas scavenger hunt for kids have been chosen so small hands can carry the object and show it to the camera, (no Christmas trees or wreaths in this one!). Also mentioning items that are mostly open and can be found in most homes that have internet access.
Feeling a bit Grinch-y?
If you are not feeling like hosting Christmas games for kids in your Zoom class, you should know that this Zoom Christmas scavenger hunt idea started as a Free Printable Virtual Scavenger Hunt, which is open, fun and has nothing to do with any holidays.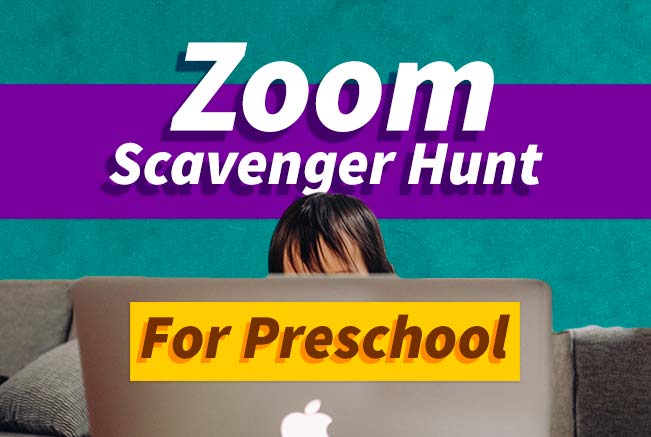 More than 40,000 teachers and parents have downloaded it and the feedback on our Teachers Pay teachers store is overwhelmingly positive (thank you so much!), please do check it out.
A little something for your social distancing needs in school…
We've added a "Social Distancing Greetings poster" with non-contact options to our Morning greeting Choices printable. Hope you find them useful 🙂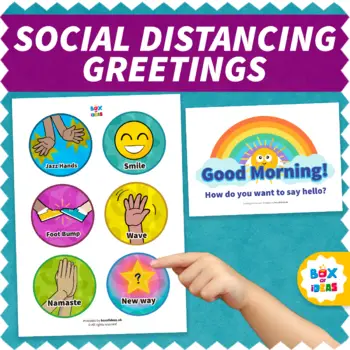 Save this Christmas Scavenger Hunt on Pinterest:
During this tricky situation that we are all going through, us teachers have adapted our abilities as best as we can, and once again we exhibit how much we really care for our students doing whatever it takes to help them grow.
This holiday season, teachers can use these indoor Christmas scavenger hunt ideas to engage kids as young as toddlers, preschoolers, and kindergarten students, whose attention span is great for engaging in active distance learning activities in a virtual classroom.
___________________________________
You might like: DIY Toilet Paper Roll Elf on The Shelf
___________________________________
Find in this page:
Directions for playing a Christmas virtual scavenger hunt game over Zoom
Link to Lists of Zoom scavenger hunt ideas by theme
A beautiful Christmas virtual scavenger hunt template
A list of fun activities to do on Zoom with students (More Christmas games to play on zoom that are NOT scavenger hunts)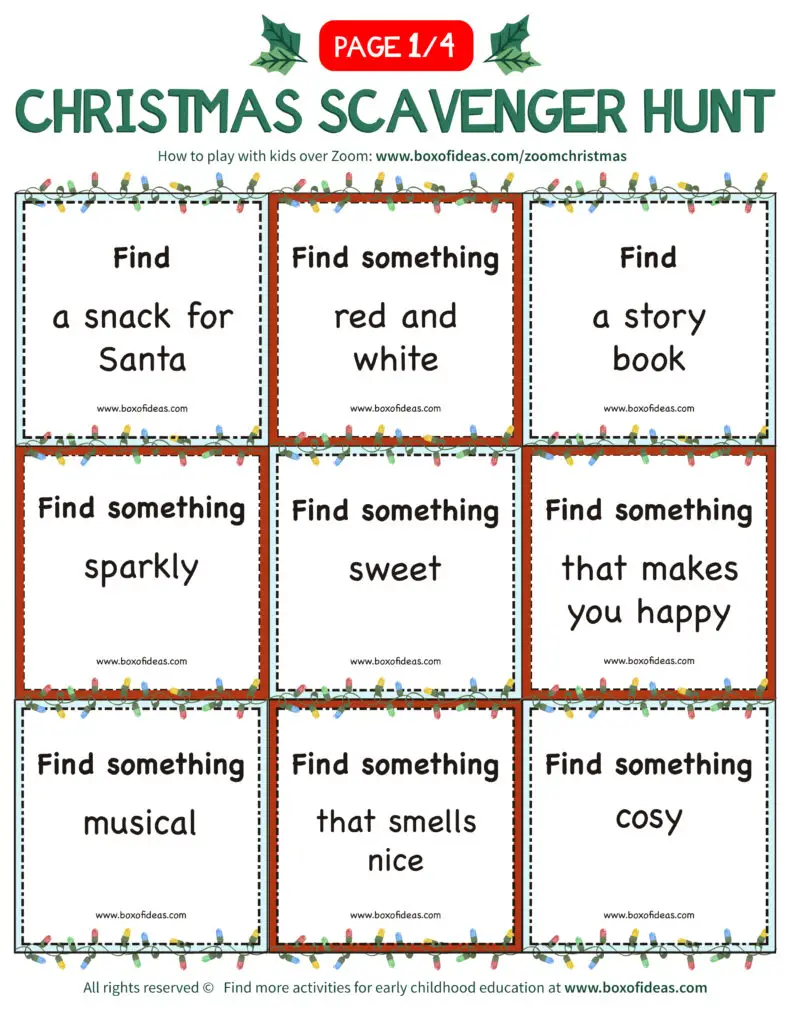 How to play Scavenger Hunt via Zoom
Either write down your clues, or cut out the cards on the printable (download the Christmas themed scavenger hunt clues at the bottom of this page, or get the free scavenger hunt clues that are not related to Christmas) and put a selection of cards facing down on a surface that is visible by your students. Place the cards on a flat surface and tilt down your camera or stick them to a notebook, whiteboard or corkboard.
One student "picks a card" so the grown-up can read it out loud, then everyone goes to find the item written on the selected card. Some prompts are "open-to-interpretation" to give the students an opportunity to use reasoning to come up with answers that would justify why their item is valid (i.e. Find something that makes you happy).
When everyone is back with their item, or a pre-agreed time limit has passed (I usually just count to 10, slowly), some students share their found item, and if it is not clear why they chose that specific thing, they have an opportunity to share with the group why they chose that object.
Something great about this Christmas Zoom activity is that it can be extended for as many rounds as you need to.
The printable gives you 27 "find it" cards, but it is easy to come up with more on the spot if you need them (TIP 1: think of colors, objects that have a specific shape/texture, things that start with a specific letter, etc.)
Our printable Christmas treasure hunt also includes a blank page so you can fill it in with your own ideas for Christmasy things to find.
TIP 2* Grab a bunch of the "find it" list of ideas below on this page (section called "Indoor Scavenger Hunt Ideas")
TIP 3: Mute the entire Zoom room between rounds and just unmute the person who's turn is to choose a card / show their found item.
Grown-ups can play too
It is also fun for the teacher/parent to join in and try and find the clues each round. This also works as you can model the way of explaining different characteristics or reasons why you have chosen each item.
Can't print? Not a problem!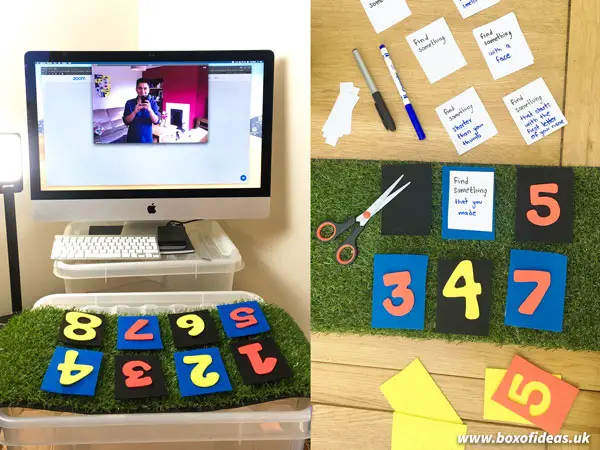 If you don't have a printer, you can either use the video below or do what I did when I got caught during lockdown without ink and DIY your scavenger hunt cards by hand. Use the text prompts from this page or the ones that come with the printable (watch the video for Christmas scavenger hunt clues ideas).
Timings
When I played this with my Preschool group we used a free account on Zoom, so we had to keep the call under 40 minutes so nd we only had time to do about 6 rounds, so don't worry! you don't have to make that many cards to keep the game engaging for a long time.
Play this using a video:
Share your screen with the group and one student says "stop!" when they want you to pause the video (the video below is included with your download of the printable for this Christmas zoom game).
If sharing your screen is not your thing, you can play the video using another device and pausing it in front of the camera.
Video version of this Christmas Virtual Scavenger Hunt for Students
Please leave us a comment on the video above if you know any other Christmas games to play over Zoom.
Ways the kids can virtually "select a card"
Pick a letter
Make letter cards (or use these vowels flashcards printable). This is great for practicing letter recognition and for Christmas zoom games with kindergarten students.
Pick a color
Cut out bits of different colors of paper, foamy, or any colorful material that you have at hand. This is great for playing the Christmas scavenger hunt for toddlers and younger preschool kids.
Pick a number
Make number cards (or use these animals 1 to 10 printable numbers). This is great for practising numbers and numeral recognition in preschool.
For students who are older, you can place the cards lined up and let them choose the card by naming the numerical position of their choosing (first, second, third, etcetera). I find that this option is excellent when doing an indoor scavenger hunt for 4 year olds that are getting ready to go to school.
Pick a shape
Cut out different paper shapes. Mixing shapes and colors is a good idea too, so the kids can have more diversity of choices. This is a nice option for playing the Christmas scavenger hunt as a virtual activities for toddlers.
Pick a position
Place a "focus thing" in the center and place the prompt cards under, on top and next to it. The focus thing can be as easy as a drawing of a smiley face. Or you could make use a glass jar or box, and place one card inside of it to give the kids the positional option of "inside".
Mixing some or all of the options above to cover a wider range of Maths and Literacy topics gives extra-curriculum points!
Pick a toy or a cartoon character
Assign an image of a cartoon character or a toy to each of the cards.
This is a good strategy for an indoor Christmas scavenger hunt for preschoolers that are gaining more confidence for speaking in front of a group and the feeling of being "tested" (by answering numbers, letters, etc.) might cause them some anxiety.
___________________________________________
You might like: Christmas Tree Activity for Preschool
___________________________________________
How to Play Christmas Scavenger Hunt Bingo
Use the Christmas scavenger hunt printable (get it at the bottom of this page) and send it to the children beforehand so their parents can print it or display it on a phone/tablet. The kids choose only one page to play on each round (there are four pages available) and the cards are shuffled. To make several rounds (so you can have more winners), play that the first one to complete a line of three found objects in the same row or column wins each round.
How is this virtual Christmas game educational for Kindergarten and Preschool?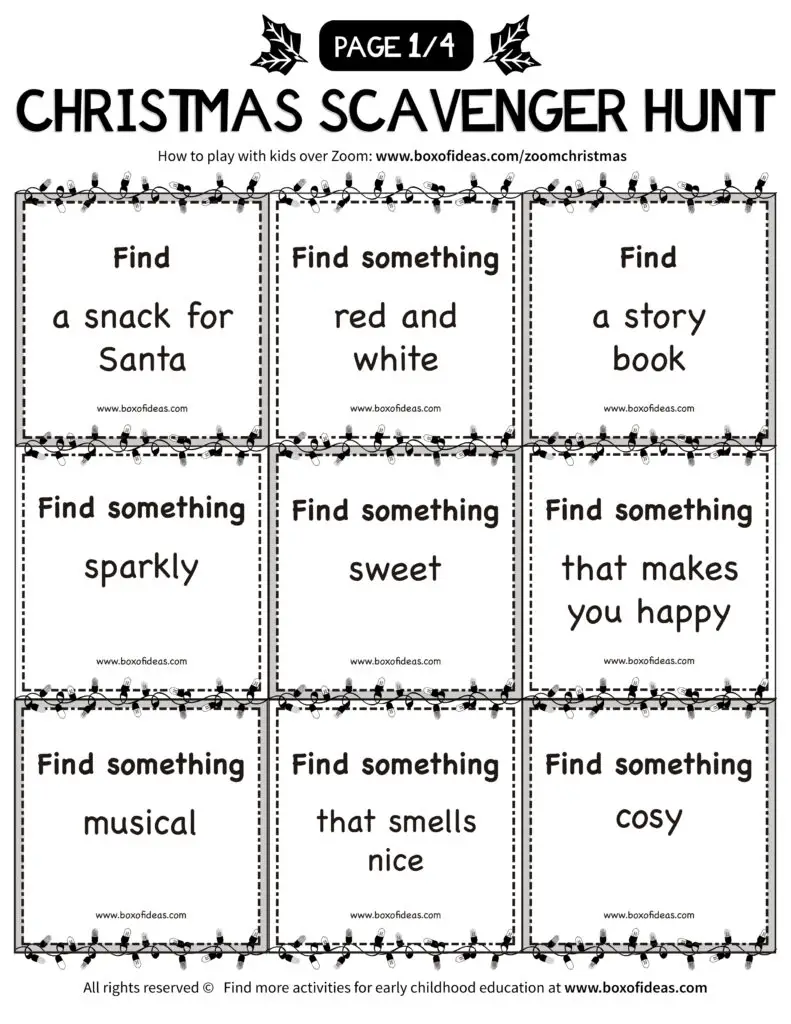 The game can be linked to different areas of the early years' curriculum, more specifically:
Numeracy / Literacy / Maths: The interactive way of "choosing" a card lets the child practice: numeral recognition, colors, letters, or positions, depending on the logistics decided by the teacher.
Speaking and self-confidence: The children practice speaking in front of a group when they are the only person unmuted and can share their found item with the rest of the students.
Physical Development:  The children need to be moving around the house (safely) in order to find the objects each round.
Behaviour Management: The students practice taking turns being the person in charge of "choosing" a card.
Technology: The students use an internet connection and a device (laptop, desktop, phone, tablet) in order to do the activity.
Understanding and attention: With support from their grown-up, the children need to understand the instructions of the card each round in order to be able to find a suitable item.
Indoor Scavenger Hunt Ideas
Here is a list of ideas for virtual scavenger hunt games that you can do with toddlers, preschoolers and kindergarten children, depending on what topics you want to work on.
Lists of Zoom Games for Kids
Here you have a few lists of fun Zoom activities for kids that you can play around Christmas and are not scavenger hunt:
Zoom Activities for Kinder by Simply Kinder
Zoom Ideas and Tips for Distance Learning by Pocket of Preschool
Fun Games to Play with Kids on Zoom by And Next Comes
Using Zoom for Preschool by Ish Mom
12 Super Fun Games to Play with Kids by Parade
20 Virtual Games for Kids using Zoom by Ministry to Children
Zoom Activities to Use with Distance Learning by Lucky Little Learners
If you know of more fun Chritsmas zoom activities for students that you think should be included in this list please send us a DM on Instagram.
About the Christmas Zoom Scavenger Hunt Printable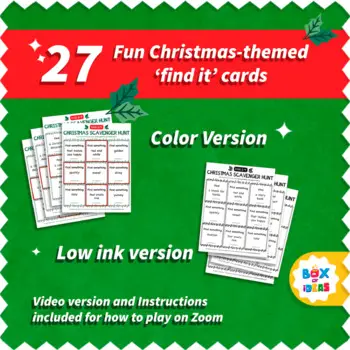 The download includes:
MP4 VIDEO in HD of the animated "find it" cards
PDF with 4 pages in color (27 different "find it" cards and 9 blank cards to write your own prompts)
PDF with 4 pages in black and white (27 different "find it" cards and 9 blank cards to write your own prompts)
* Instructions and ways to play the zoom activities
Download PDF
Option 1 (Teachers Pay Teachers account required)
Option 2 (Gumroad – no account required)