I asked a bunch of parents of multilingual kids how to say "Merry Xmas" or the equivalent Christmas greetings in their language so I could include a banner for this Christmas card craft.
RELATED IDEA: Cut and Paste Christmas Card for Kids
With the everyone's amazing contributions we gathered the translation for 60+ languages, as listed below.
* DISCLAIMER * The phrases below correspond to the translations made by regular parents (not all professional lingüists) who presumibly speak / know the language, nevertheless we can't garantee that the spelling of each word or translation is official and legit.
Good for: Christmas projects for kids.
Bad for: Writing a letter to your head of state.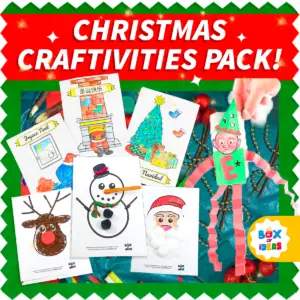 60+ ways to say Merry Christmas in a list sorted alphabetically by language:
* Option 1 / Option 2 .
Afrikaans
Geseënde Kersfees
Albanian
Gezuar pashket
Arabic
ميلاد مجيد/ عيد ميلاد مجيد
Azeri
Yeni Ilin Mubarek
Bahasa Indonesia
Selamat Hari Natal
Basque
Eguberri on / Gabon Zoriontsuak
Bisaya language
Malipayong pasko
Bosnian
Sretan Bozic
Breton
Nedeleg Laouen
Bulgarian
Весела Коледа
Cantonese
聖誕快樂 / Sheng Dan Kuai Le
Catalan
Bon Nadal
Chinese, China (Simplified)
圣诞节快乐
Chinese, Taiwan (Traditional)
耶誕節快樂
Croatian
Sretan Bozic
Czech
Veselé Vianoce
Danish
God Jul / Glædelig Jul
Dutch
Fijne Kerstdagen / Zalig Kerstfeest
English
Merry Christmas
Estonian
Häid jõule
Filipino
Maligayang Pasko
Finnish
Hyvää Joulua
French
Joyeux Noël
Gaelic
Nollaig Chridheil
German
Frohe Weihnachten / Fröhliche Weihnachten
Greek
Καλά Χριστούγεννα / Χαρούμενα Χριστούγεννα
Gujarati
Natal ni subh kamnao
Hebrew
חג המולד שמח
Hindi
क्रिसमस की बधाई
Hungarian
Boldog Karácsonyt
/ Kellemes Karácsonyi Ünnepeket
Icelandic
Gleðileg jól
Irish
Nollaig shona dhuit
Italian
Buon Natale
Japanese
メリークリスマス
Korean
메리 크리스마스
Latvian
Priecīgus Ziemassvētkus
Lithuanian
Su šventom Kalėdom / Linksmų Šv. Kalėdų
Luxembourgish
Schéi Chrëschtdeeg
Macedonian
Sreken Bozik
Malay language (Malaysia)
Selamat Hari Natal
Maltese
Il-Milied it-tajjeb
Mandarin
圣诞快乐 / sheng dan just le
Marathi

Mongolian

Shubh Nataal / नाताळच्या शुभेच्छा

Зул сарын мэнд

Norwegian
God jul
Papiamento
Bon Pasku
Persian
کریسمس مبارک
Philipines dialect
Malipayon Nga Paskwa
Polish
Wesołych Świąt / Wesołych Świąt Bożego Narodzenia
Portuguese
Feliz Natal / Bom Natal
Quechua
Allinlla Raymi
Romanian
Craciun Fericit
Russian
С Рождеством / Счастливого Рождества
Sámi language

Scottish Gaelic

BUORI JUOVLLAT

Nollaig Chridheil

Serbian
Срећан Божић / Sretan Bozic
Setswana (South Africa)
Monate a Keresemose
Slovak
Veselé Vianoce
Slovenian
Vesel Božič
Spanish
Feliz Navidad
Swahili
Krisimasi njema / Kheri ya krismasi
Swedish
God Jul
Swiss dialect
Frölichi Wiehnachte
Tagalog
Maligayang Pasko
Tahitian
Ia oaoa i teie noera
Turkish
Mutlu Noeller / Yeni yılınız kutlu olsun
Ukranian
Веселих свят / З Різдвом Христовим
Urdu
ﺑﮍﺍ ﺩﻥ مبارک
Uzbek
Yangi yilingiz bilan
Vietnam
Chúc Mừng Giáng Sinh / Chúc Giáng Sinh Vui Vẻ
Welsh
Nadolig Llawen