Save time making DIY toy houses and buildings with recycled materials by printing these lovely doors and windows.
That way you can use the extra time to make entire towns, cities or even a huge dollhouse mansion (or would that be called a "dollmansion"?).
* Rainbow Town was inspired by the book "My Colour is Rainbow" by Agnes Hsu, a short children's book about acceptance (much needed nowadays!) *
* I get a small commission for purchases made through the link above *
Instagram Video:
How to Make a Rainbow Town with Recycling Materials
Ver esta publicación en Instagram
Watch the video on Facebook here.
If you want more recycled crafts kids projects ideas I also recommend this fantastic book.
About the printable
It is a PDF with 3 pages:
The Doors and Windows come in a sort-of medieval looking style and a few of them can "open and close" for extra fun.
The Signs page comes with a big "Welcome to Rainbow Town" entrance sign because this printable came to life for a guest post I had the chance to make with the amazing Hello Wonderful (you can see the full tutorial here).
There are also a bunch of blank signs so the kids can draw whatever symbols or words they need for their buildings.
In the Rainbow Town, we included symbols for a Pastry shop, a Flower shop, a Hat shop and a School (which I clearly chose badly because my wife thought the building with the apple symbol was a fruit shop, lol).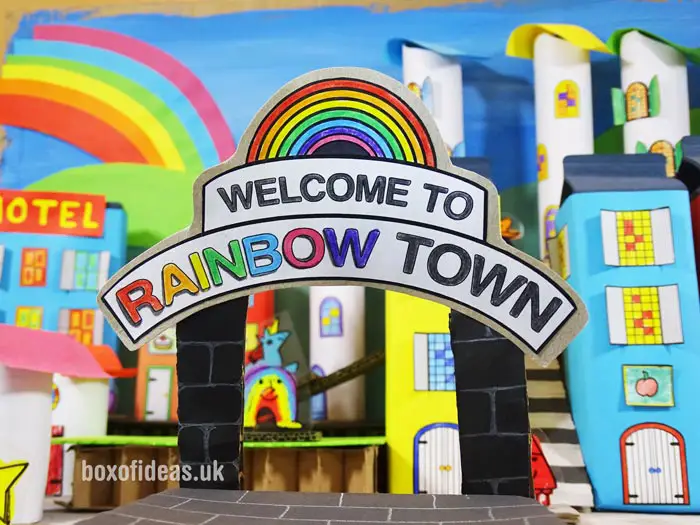 How to use it:
You can use your creativity to come up with ways of making your recycling town, but I leave you some guidance below for making the buildings, in case anyone needs it:
Hop over to the guest post at Hello Wonderful where this amazing town came to life for the first time!
MATERIALS
Assorted recycling (juice cartons, cereal boxes, cardboard tubes, etc.)
Coloured paper (optional)
Glue/tape, scissors and anything to add color (paint, crayons, markers, etc.)
INSTRUCTIONS
1. Paint the top of the recycling or cover them with paper to make the roof.
2. Wrap the box with colored paper.
3. Color-in, cut out and paste the windows and doors you want for your building. You can either download and print the PDF at the end of this page or draw your own doors and windows.
4. Use your creativity and whatever resources you have available to add any extra details to make your building more unique (for example, if you have pom-poms you can use them as flowers outside of your flower shop, or as fruit outside of your market).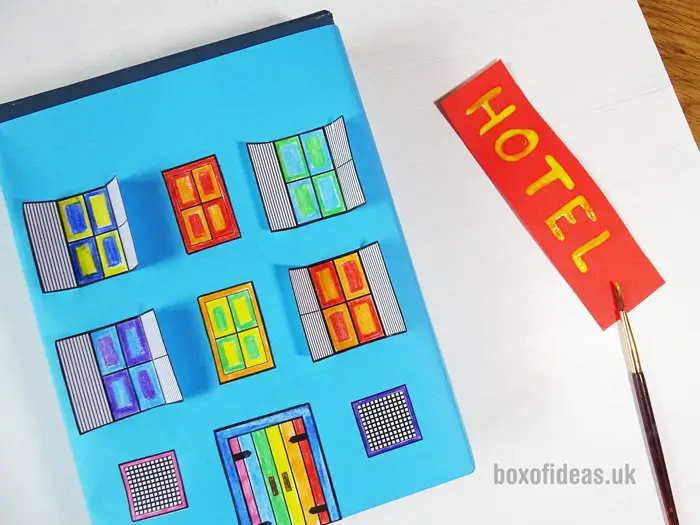 You might also like: Incomplete Animal Drawings for A&C Game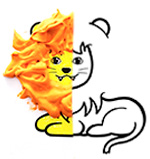 Teamwork and Community Activity for Kids:
If you have a group of kids, have them all make one or two buildings of their choice and put together a town where all of them contribute to make it beautiful!
You can expect to have several of the same type of building, and that's ok! (Police stations and Supermarkets will probably be easy to find in your town) you can always encourage the kids to make more buildings if you want the town to have a more diverse range of public spaces 🙂
Printable Preview:
Examples of finished buildings and houses:
Note: This idea was created in collaboration with Hello Wonderful. You can see Box of Ideas' guest post over there.
Get the PDF:
Are you a TpT user?
This printable is also available in my TeachersPayTeachers Store