Inside: A collaborative Valentine's day bulletin board idea where the students write something they love on a simple Valentine craft activity. It makes a great Valentine's day classroom door decor too.
RELATED IDEA: 3D Cupid Valentine's Day 3D Card and DIY Gift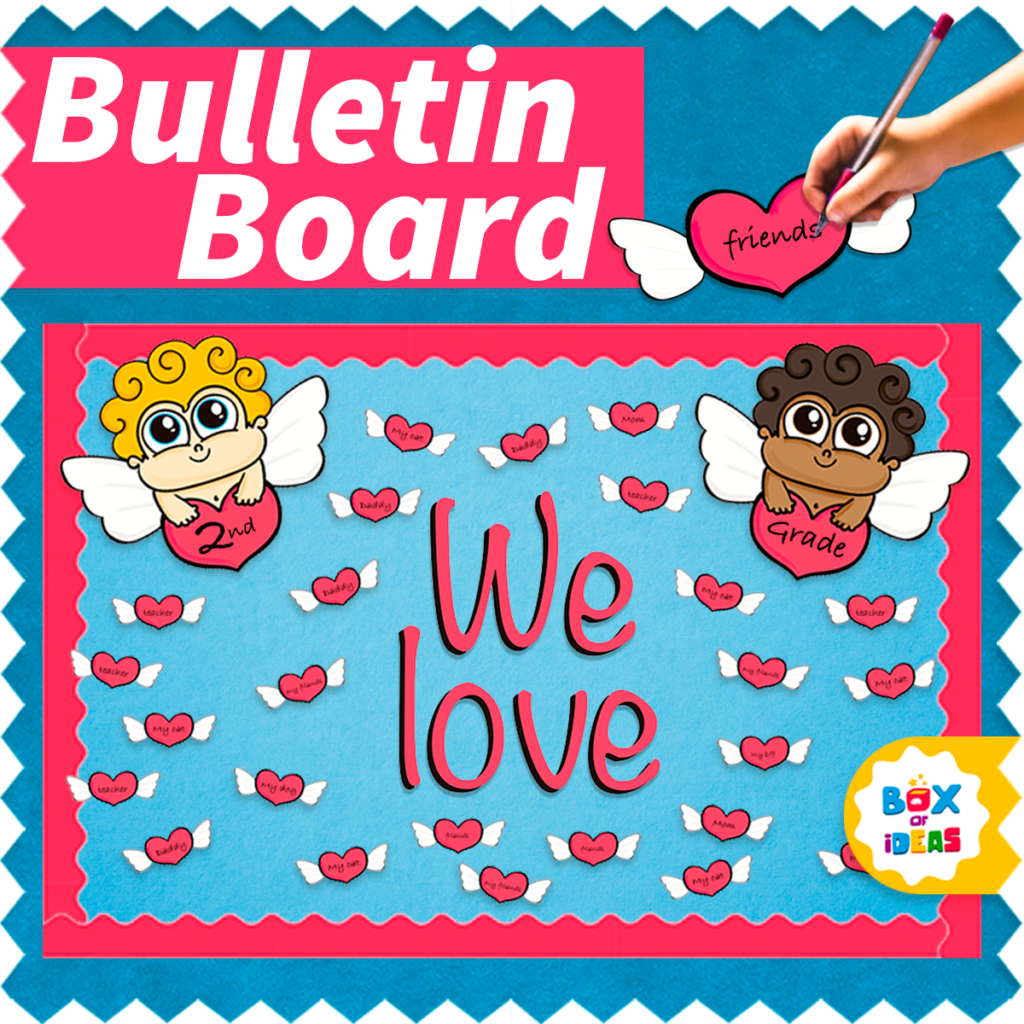 Use this creative idea to make a different Valentine's Day display for the classroom and door decoration where the children get to participate and make it their own. This idea helps the children feel included as part of the group since it takes on everyone's Valentine's art project to make a big valentine's display. Great for developing classroom culture!
Don't forget to check my other printables to enhance your learning environments 🙂 Like these 1-10 Animal Numbers or this Morning Greeting Choices chart.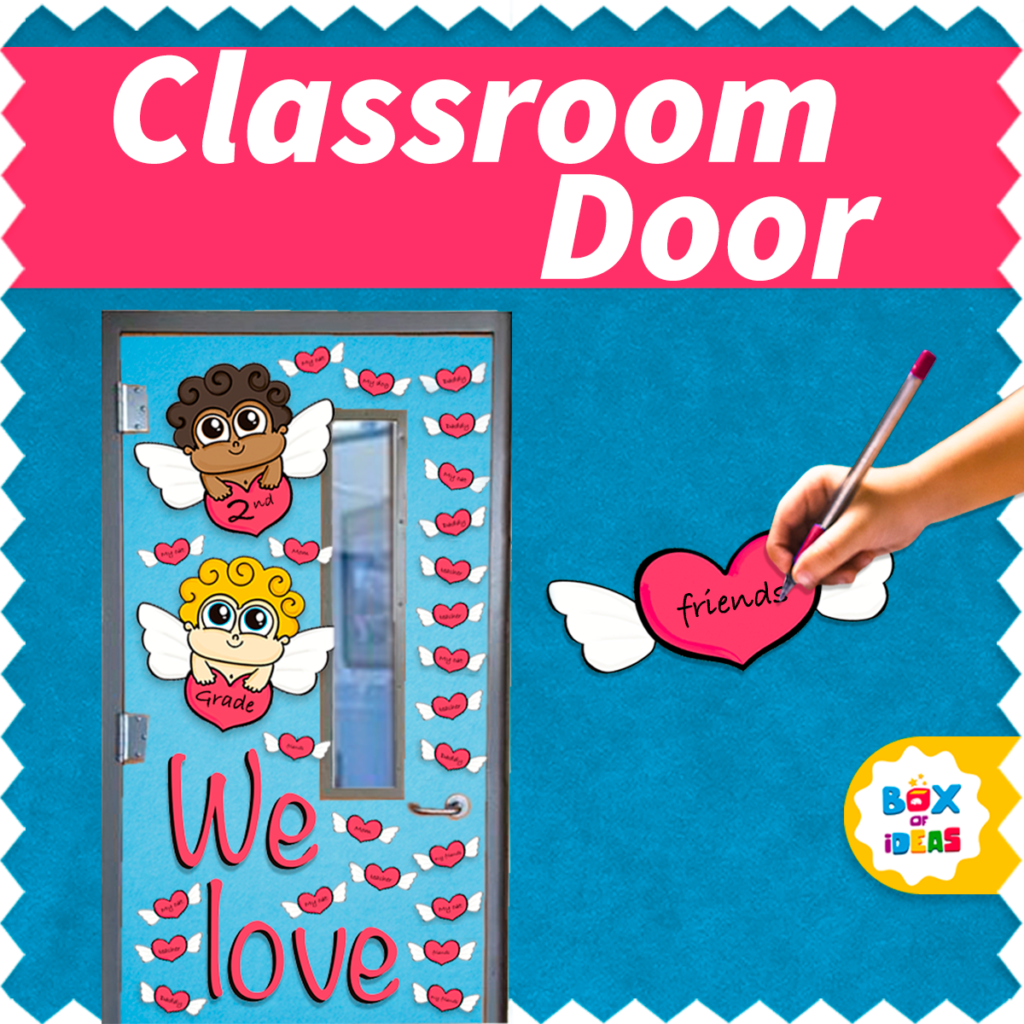 The main goal of this Valentine's bulletin board is to help the children reflect on what matters to them. The banner included in the template reads "We love" and the children write something they love in either a print-ready craftivity, or a more crafty version where the students decorate their own winged heart before writing what they love on it.
Classroom Door Decor for February Valentine's Day
Adapt this valentine's day display idea for an eye-catching February door decoration. Your classroom door will look like a giant Valentine's Day card!
The color version of this classroom door decoration kit includes one cupid with a lighter skin tone and one cupid with a darker skin tone. If you would like different hair colours, hearts and skin tones you can use the B&W version and print it in a paper of the color of your choice.
► How to use this resource in the classroom
Give each student one of the winged-hearts from the template and ask them to think about something they love and to write it on the heart. Gather all the hearts and display all their loving thoughts in a bulletin board or door.
Write the name of your class on the big hearts that the cupids are holding so everyone can see what class made the beautiful Valentine's Day composition.
► Valentine's Day Craftivity
Give the pupils a B&W version of the hearts template so they get to decorate their heart, besides writing in them something they love, making it more their own. In this way, your bulletin board or door will display everyone's individuality in their own Valentine's Day Craft.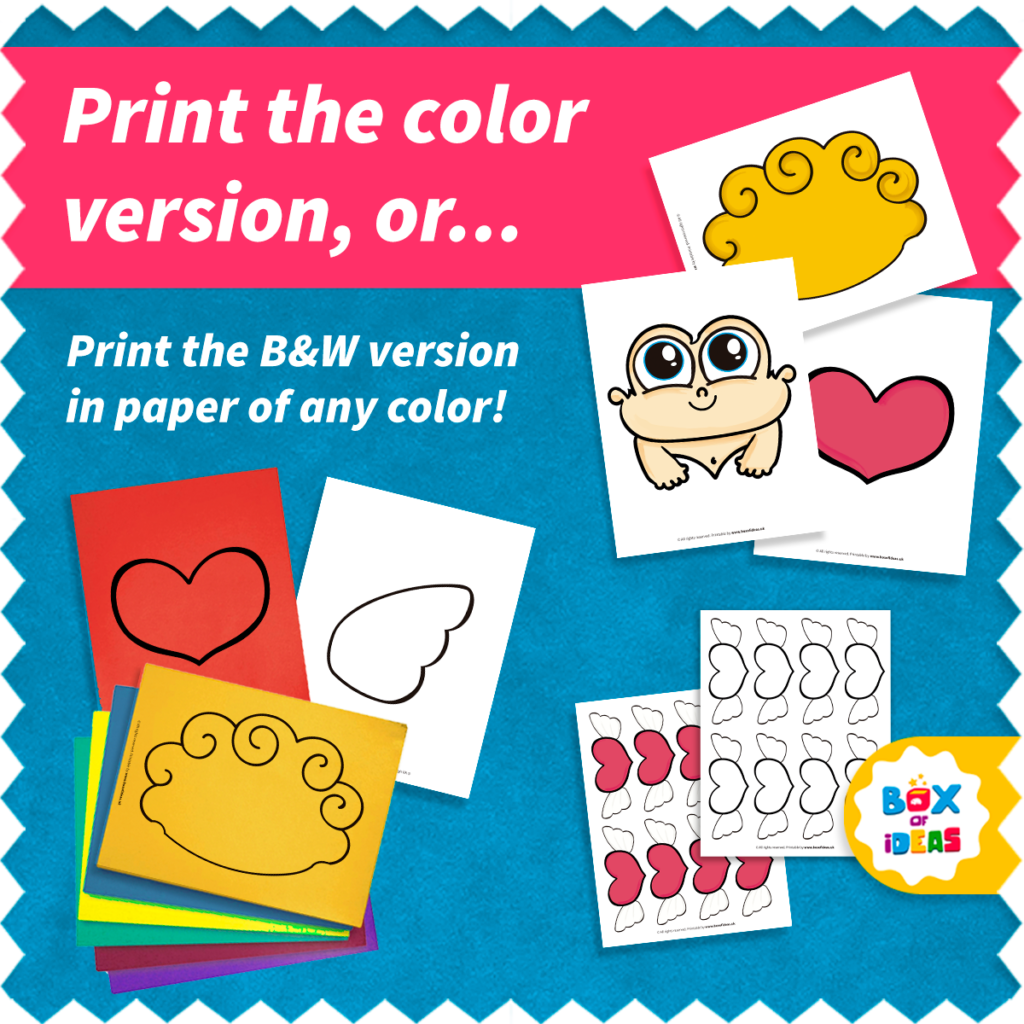 ► Easy to assemble
Either: print the color version, or print the black and white version in paper of the color of your choice.
Paste the Cupid's pieces in the following order: Hair, wings, big heart, body and eyes.
► Classroom door decoration ideas
Print photos of your student's faces and paste them in the winged hearts. Now that is an original classroom decor for Valentine's day!
Display your classroom door decor arranging the student's winged hearts so they form the grade number that corresponds to your class.
Display your class' grade on the valentines day door decor. Just use a thick marker to write it on the big hearts that the cupids are holding.
► Why is this resource useful?
Here are more reasons why this resource brings you great value:
Encourage the children to reflect on people and things that matter to them
Make classroom decorations for a Valentine's day bulletin board as one of your February activities.
Since this activity welcomes all levels of artistic skills, it is useful for students ranged from Pre-K, Kindergarten and Elementary. The heart designs can be as simple or as complicated as each student chooses.
Good for planning preschool activities at the end of January and the start of February.
Simple handwriting practice.
One of the Valentine's Day activities that can be used with lower and higher grades.
The winged hearts are a simple valentine craft that can be done with low-prep, using resources you already have.
Use the black and white version of the cupid as one of your February coloring pages.
Quick and reflective valentines day writing activity.
Good hand-writing practice for the younger students.
One of the Valentine's Day activities that can be used with lower and higher grades.
Ask your early finishers to help you cut out hearts as time-fillers.
Save this idea on Pinterest!
► Download this resource
Get this resource in my Teachers Pay Teachers shop.
NOTE: Get this resource as part of this Valentine's Day decor and activities bundle for better value.
Don't have a TpT account? No problem.
If you don't have a Teachers Pay Teachers account, you can easily get this resource over here.