A fun Arts and Crafts game idea where kids exercise their creativity and problem-solving skills by coming up with different ways to finish the incomplete bodies of different animals.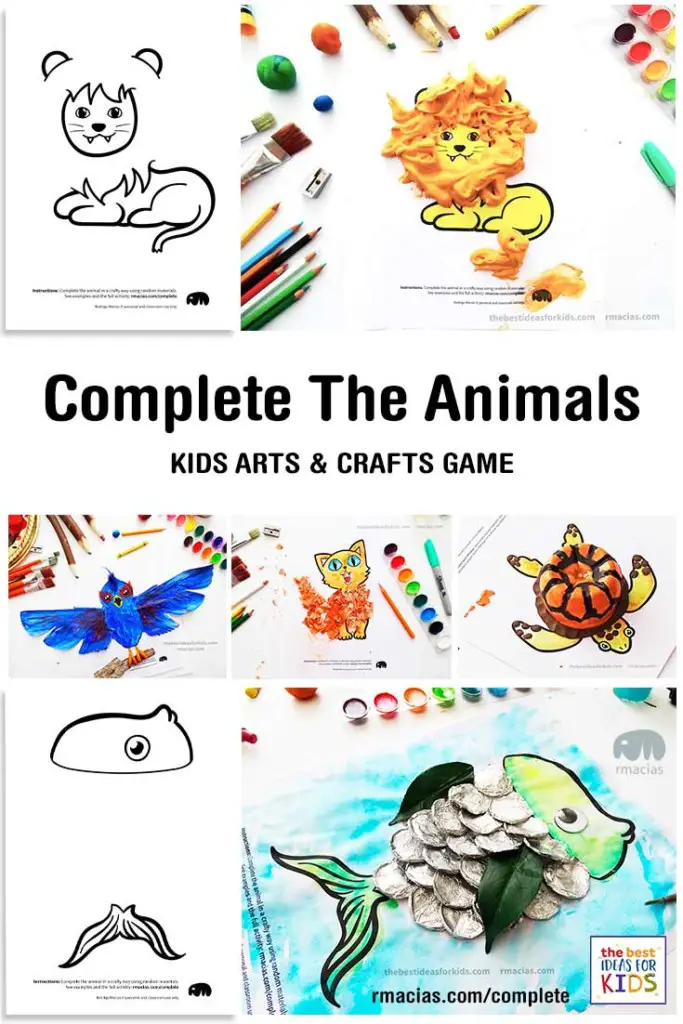 _______________________________
You might like: Morning Greetings Poster
_______________________________
(Video) Creative Animal Crafts
Here's a video of 8 different animal craft ideas for kids in high speed:
Instructions:
1. Download the Printable from the link at the bottom of this page (it comes in English and Spanish)
2. Complete each animal in a crafty way by playing with your creativity and any random materials that you find around.
Unleash your creativity!
Experiment with odd materials that don't look like art supplies at all. That brings a richer experience for the player because it gives more satisfaction to them knowing they "discovered" a new way of using something. Who doesn't love that feeling?
► How to use this resource for distance learning
Send one "animal challenge" per week (or day, depending on how you are doing your online sessions). The students can print the template at home (or parents can help "copy" the template if they don't have access to a printer) and use whatever resources they have around their home to craft their animal, then take a picture and share it with the group in the platform that you are using to deliver your lessons (Zoom, Google Classroom, etc.)
I have tried this with my preschool students and it is wonderful seeing how each child comes up with something completely different that reflects their personality.
_______________________________
Printable Preview:
Incomplete illustrations of these animals: Lion, Bird, Cat, Turtle, Snake, Fish, Butterfly and Sheep. Available in English and Spanish 🙂
_______________________________
You might like: Morning Greetings Poster
_______________________________
Idea twists:
Recycling Mode: Play an eco-friendly version of this game by using mostly materials that would otherwise be thrown away (clean trash).
Animal Breeds: Print many copies of the same animal and craft them in different breeds.
Teaching Art Styles: Ask the kids to complete each animal using techniques related to different art movements like Impressionism, Minimalism, and my absolute favorite, Surrealism.
 Instagram:
 

 

View this post on Instagram

 
Finished Examples:
_________________________
You might like: 1-10 Animal Numbers for Kids
_________________________
Note: This idea was created in collaboration with The Best Ideas For Kids blog (I love their Facebook Page and you might too!). You can see my post as a guest over there.
Download PDF
TpT users,
This printable is also available in our TpT shop!
* Quick Note * My beloved email friends get my newest printables before anyone else, right in their inbox!
Sign up here if you'd like me to add you to that list 🙂