An imagination game where kids find shapes in abstract images.
Resources
Prep
Print or save digitally the images from printable A.
How to play
Ask them "What do you see?" and show them 1 of the paintings. Encourage them to use their imagination, if you use yours, they probably will too.
Do the same with all the paintings.
Game twists
Do extra rounds using the same paintings by asking them more specific questions, such as: What animal do you see? How many faces can you find? etc.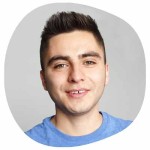 Rodrigo Macias (author) is a bilingual creative mixing his experience working in Childcare and Design around planet Earth to come up with high-quality printables and playful-educational activities for kids. Check those out at the Box of Ideas.